OnePlus 3 Will Reportedly Have 1 Million In Stock, 4 Versions & Pricing Leaked
Its been a rather long wait for the new OnePlus 3 to be announced in the market. The company has finally confirmed that it will release the handset on June 14, which is still a couple of weeks away. But in case you are wondering why OnePlus decided to delay the release to mid-June, here's one possible explanation. According to the industry insider, Mocha RQ, OnePlus reportedly is stocking nearly 1 million units of the OnePlus 3 flagship for sale. The company has been stocking up the new flagship recently, which also makes it possible for it to make the phone available for sale, the very next day.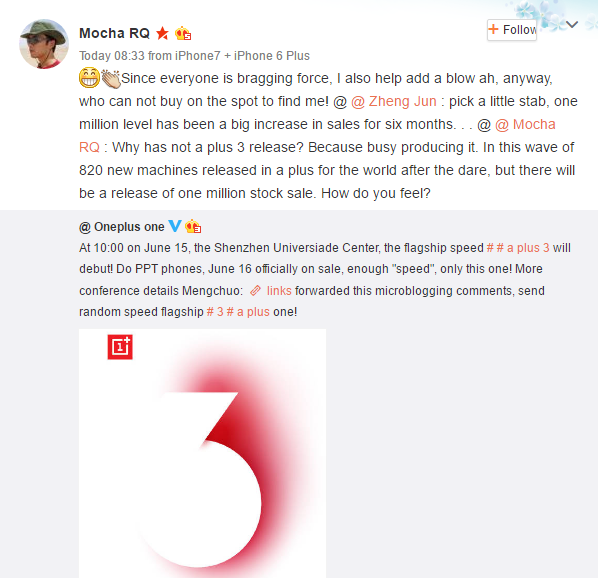 Apart from this information, the pricing details of the OnePlus 3 were also leaked today. Unlike previous rumors which said that the phone would start at 1999 Yuan ($308), this new rumor states that there will be four different versions of the new handset. Because of the increased cost of mass producing the all-metal OnePlus 3, as compared to the plastic and glass Mi5, the OnePlus 3's base variant will start at a similar price as Xiaomi Mi5's high-end version, i.e. 2299 Yuan. The second variant will compete with the Le Max 2 model, the third will compete with the ZUK Z2 Pro top-end model and finally, the fourth variant will compete with the Huawei Honor V8. If this four variant strategy is indeed true, then we can expect the prices to be at 2299 Yuan ($349), 2499 Yuan ($379), 2699 Yuan ($410) and 2799 Yuan ($425).
These variants could differ in terms of memory, back material, and other features. This is the first time we are hearing about a four variant strategy by OnePlus, so we don't have much information about these models. But if this is true, then expect a lot more details in the next few days.
READ MORE:
OenPlus 3 Launch Schedules (International)
OnePlus 3 To Be Announced In VR