Vivo X7 Real Pictures Reveal A Similar Design As the OPPO R9
Earlier today, Vivo revealed a few more details about the upcoming Vivo X7 flagship. The phone will reportedly come with a fast fingerprint sensor and ultra-thin bezels on the sides. While back then, the phone was just revealed in a few renders, now, new real life images of the Vivo X7 have just popped up online. As you can see, these images don't reveal much about the overall design, instead focuses on the fingerprint sensor that's located on the front, right below the display.
From the renders revealed this morning, we know that the phone will come with an oval sensor right up front. It looks similar to the ones we have seen on the Meizu and OPPO smartphones. While these pictures are probably promotional materials for the phone's fingerprint, it reveals that the Vivo X7 will come with a metal frame on a thin body. In fact, there's no denying that the new phone looks similar to the design of the iPhone series. Also, it looks a lot like the OPPO R9 that was announced a few months back and is doing so well in China.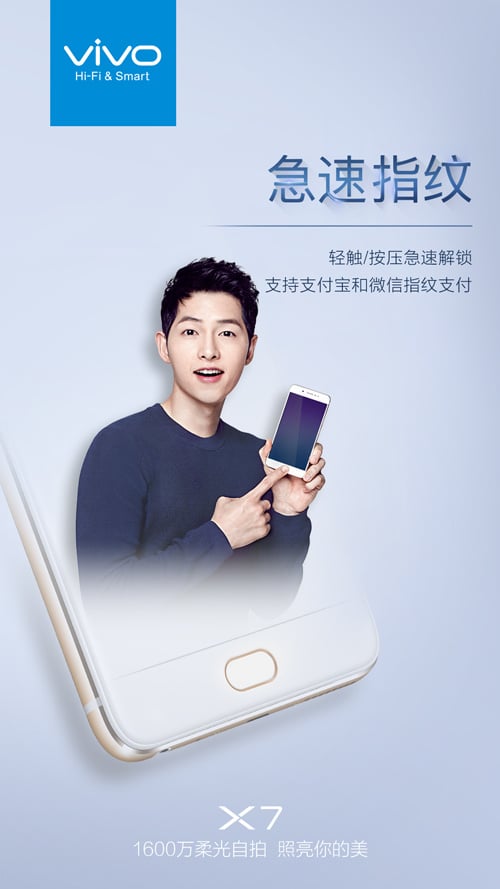 According to the company, the Vivo X7 will be equipped with a fast fingerprint sensor. The phone also seems to support fingerprint-based payment methods. As for the other specs, we know for sure that the Vivo X7 will be a selfie focused smartphone, featuring a powerful 16MP sensor up front with moonlight soft flash. While the company is yet to confirm the specs inside the device, rumors state that the phone will feature 6GB of RAM on board along with the deca-core Helio X25 chip. We haven't yet heard anything about the memory or CPU of the phone from the company, so we can't confirm this information.