Xiaomi's new crowdfunding product is a Water Filter Kettle
Xiaomi's latest Crowdfunding product turned out to be a Super Filter kettle and not the steam iron earlier thought. The new product was released today and is dubbed – Viomi super filter kettle L1 (UV germicidal Edition) starts at just 249 Yuan ($38). The water filter kettle is manufactured by Viomi, with Xiomi's crowdfunding platform acting as sales channel.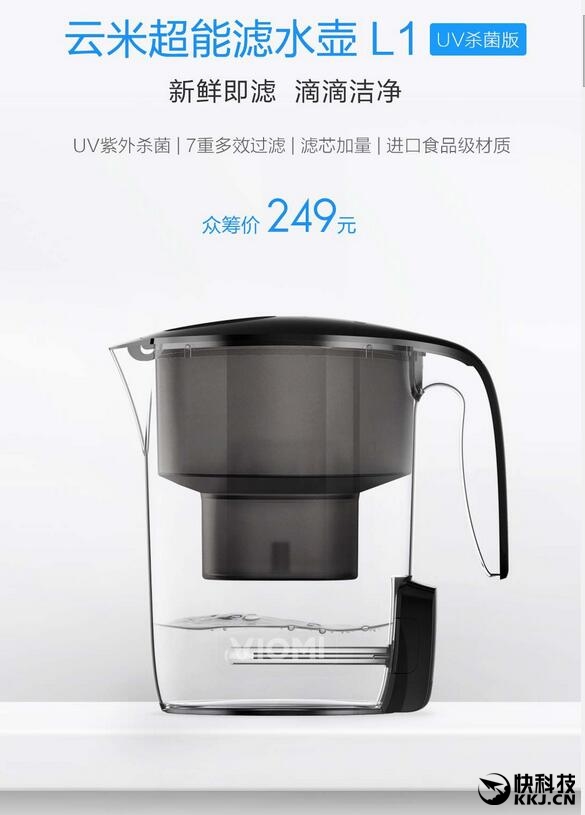 The main selling point of the Viomi super filter kettle is the Ultra-violet (UV) disinfection which it is capable of, and the seven heavy multi-effect filters it comes with. The kettle measures  265 x 145.5 x 262 mm and has a water capacity of 1.5 litres. The kettle provides intelligent filters made of different materials imported from Germany and Korea which meets food grade hygiene standards.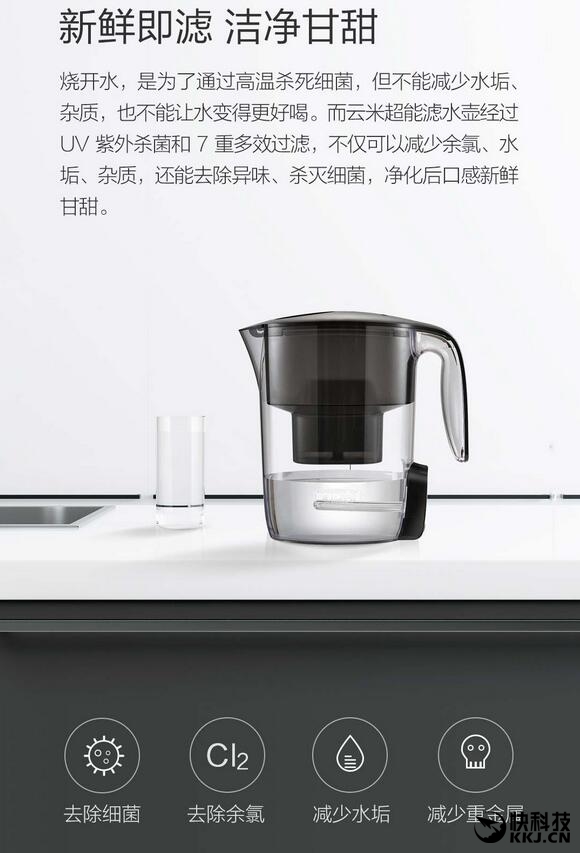 The kettle isn't an electric kettle but a water purifier using a network of filters and then ultra-violet light to purify the water. Boiling water is known to kill some bacteria but cannot kill all the germs as well as reduce the scale of impurities but the Viomi filter kettle provides filteration and UV sterilization. The kettle's technology i reputed as having the capability of reducing water impurities more than chlorine and also to remove the smell, kill bacteria and purify the water.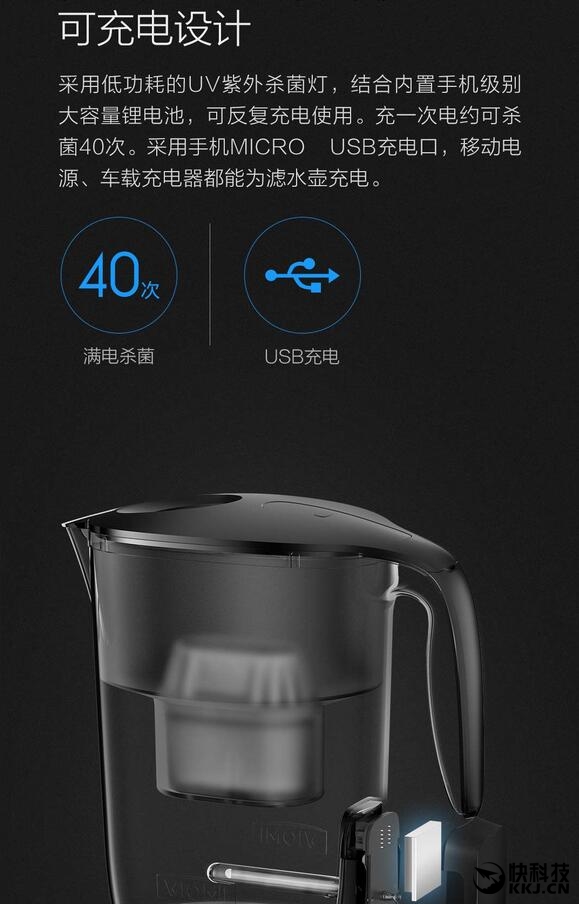 The kettle uses low-power consuming UV lamp and there is a built-in phone-level high capacity lithium battery which can be recharged using a mobile phone, phone charger, and car charger via the filter kettle's microUSB port. A full charge can be used for sterilization up to 40 times.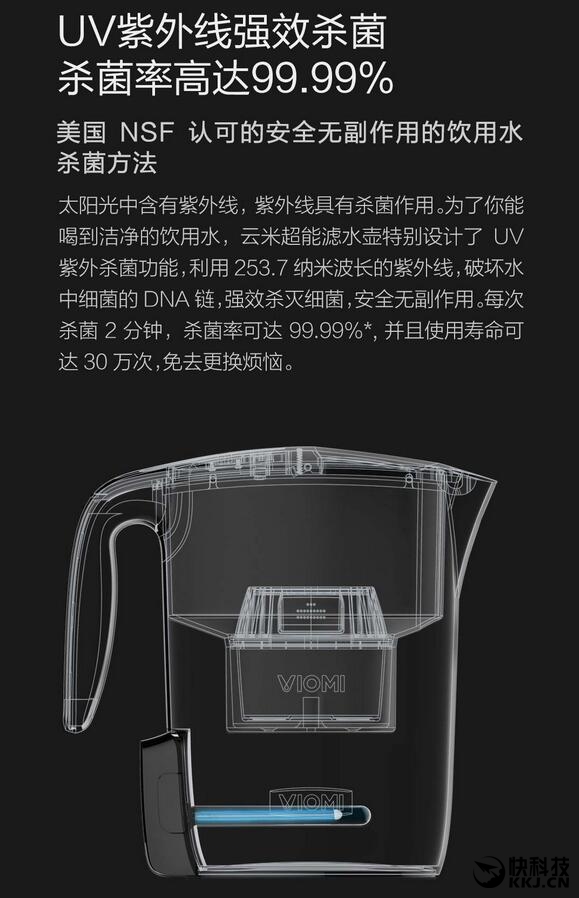 The filters can last six weeks and the Purolite sodium-ion-exchange resins inhibits the growth of bacteria inside the filter. In addition, the kettle has a 360 degree water inlet design which ensures all the water goes through the filter and a large double water flow designed in such a way that you just have to wait for just three (3) minutes for the water to be purified. Some nice gadget worth having, don't you think so?
Related: Xiaomi launches portable Smart Washing machine, priced at 1499 Yuan ($226)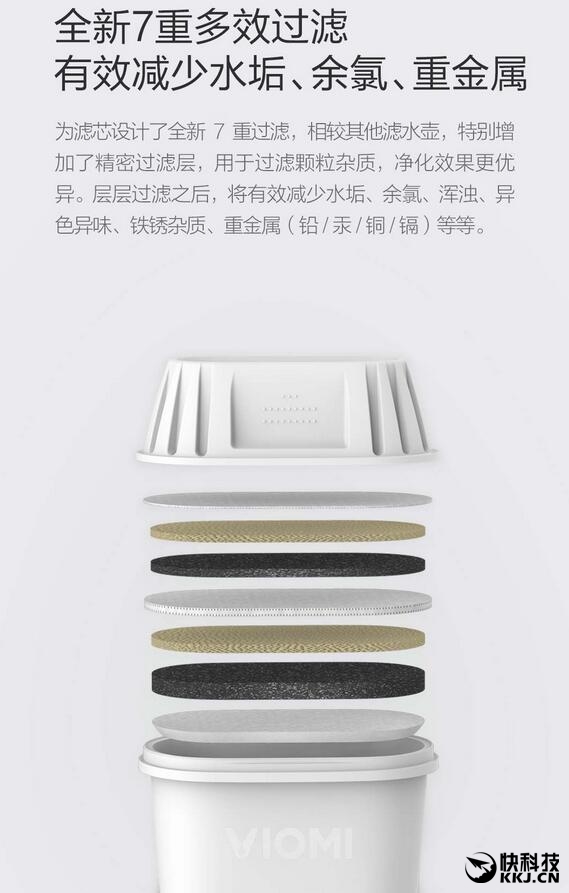 The Viomi super filter kettle L1 (UV germicidal Edition) is already available on Xiaomi's crowdfunding website at 249 Yuan ($38). The gadget is expected to start shipping on October 4.