iPhone 7 May Have 256GB Version and Even a New Name
by Habeeb Onawole Aug 25, 2016 2:40 am0
Back when the first iPhone was launched, 16GB was a lot of storage, but in the last 2 years, fans of the Cupertino-based company have complained about the company still launching 16GB phones which just doesn't cut it anymore. If the rumours are to be believed, the iPhone 7s (sevens) will come with 32GB storage on the base models.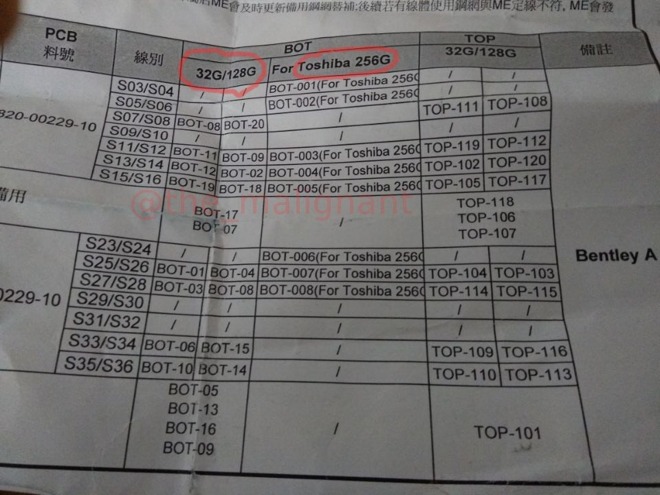 However, it seems the company is raising the maximum storage available on an iPhone. An image of a leaked assembly sheet posted by twitter account, @the_malignant shows that there will be a 256GB version of the iPhone 7.
The spec sheet shows that the 256GB NAND chips will be supplied by Toshiba and confirms that there will be 32GB and 128GB versions (no 64GB) which will be supplied by an unnamed manufacturer.
While @the_malignant has leaked details for other phones that did turn out to be true, there is still no evidence that the assembly sheet is for Apple. Experts say the PCB format does follow Apple's guidance, but it is also similar to that of other Foxconn clients.
RELATED: New 4K Video Showing iPhone 7 and 7  Plus Leaked
More Money
Earlier rumours say the 32GB base versions of the new iPhone 7 and 7 Plus will be 5288 Yuan ($794) and 6088 Yuan ($914) respectively. We can assume the 128 GB and 256GB version will sell for much higher prices based on the price of the 128GB iPhone 6s which sells for 6888 Yuan ($1035) and the 128GB iPhone 6s Plus which sells for 7788 Yuan ($1170.12)

New Name?
Earlier this week, images of phone boxes with the name "iPhone 6 SE" were also leaked online. Rumours are saying the phone known as the iPhone 7 is the iPhone 6 SE and the dual camera version will ditch the "Plus" or "Pro" and go by just iPhone 7.
These are all rumours, so try to take them with a pinch of salt.
Source:  Appleinsider.com