Pixel XL May Be Google's Most Expensive Phone
by Habeeb Onawole Sep 13, 2016 2:51 am1
The Nexus 6P was the phone that kick-started Google's high pricing and it seems the Pixel XL is taking things a bit higher, that's if the leak is true.
Android Police editor, David Ruddock posted on twitter over the weekend that a rumour flying around says the Pixel XL will cost $649. Although he's not sure if that is the price for the 32GB version or 128GB model. A preceding tweet already mentioned that there will only be two storage options i.e. 32GB and 128GB.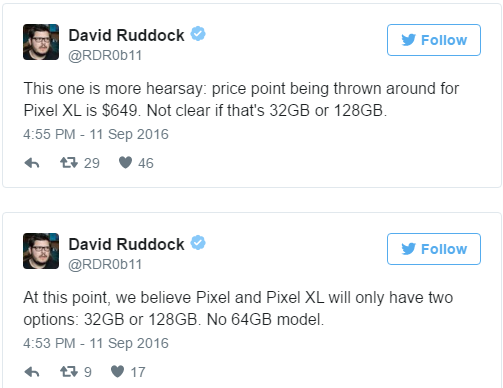 If it turns out that the price is for the 32GB version, it will still be in the price range of flagships from other manufacturers like Samsung and Apple. If the price is for the 128GB version, it will be no different from the launch price of the Nexus 6P 128GB version.
READ MORE: Huawei Mate 9 Poster Leak Confirms Kirin 960 Chip
Google is expected to launch the Pixel and Pixel XL at an event slated for October 4, but we might be getting more leaks before then. The new phones are also expected to come with Android 7.1 Nougat and a new launcher called the Pixel Launcher. There are also rumours that the search giant plans to revive the 7" tablet line this year with one made by Huawei.
Source: Technobuffalo