10nm BattleChip: Snapdragon 835 vs Helio X30 vs Kirin 970
by Habeeb Onawole Nov 27, 2016 4:26 am10
Next year is the year of 10nm chips and most of the major chip manufacturers have announced their own 10nm SoCs. Qualcomm already announced its Snapdragon 835 processor which will be manufactured by Samsung. Mediatek has also announced the deca-core Helio X30 which is being manufactured by TSMC, and we have heard rumors of a Kirin 970 chip from Huawei. While it is too early to decide which one is best, there is no harm in doing a comparison with the amount of info already out there.
Number of Cores
Qualcomm is sticking to eight-cores in a 4+4 combination for the Snapdragon 835. Mediatek on the other hand is not new to deca-cores chips; the Helio X20 and Helio X25 both have 10 cores, and the trend is set to continue with the X30. The Helio X30 will consist of four Cortex-A73 cores, four Cortex-A53 cores and two Cortex-A53 cores. The Kirin 970, just like the Kirin 960, is expected to use an 8-core setup (4 x Cortex-A73 cores+4 x Cortex-A53 cores).
Clock Speed
The SD 835 SoC will have a maximum clock speed of 3.0GHz but expect some manufacturers like Xiaomi to lower the clock speed. During the launch of the Helio X30, Mediatek already said the Cortex-A73 cores will be able to reach a clock speed of up to 2.8GHz. The clock speed for Huawei's Kirin 970 is unknown but we assume it will be between 2.8GHz – 3.0GHz.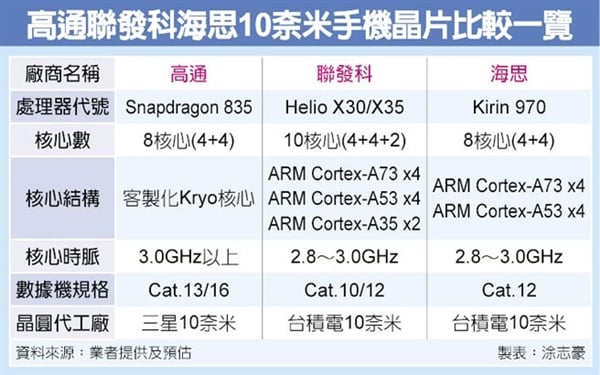 LTE Categories
Qualcomm is going all out by using using a combination of Cat. 13 and Cat. 16 for downlink and uplink. Mediatek's Helio X30 will use a combination of Cat.10 and Cat.12 while the Kirin 970 is expected to use Cat. 12.
READ MORE: Meizu's Pro 7 Flagship Rumored to Feature Huawei's Kirin 960 Chip
To sum it up, the Snapdragon 835 will offer a performance increase of 27% over previous generation and Mediatek's Helio X30 will get a 43% increase in performance. How much performance increase the Kirin 970 will have over the Kirin 960 is not known until there is an official announcement.