UI Showdown: MIUI 8 vs Flyme 6 vs EMUI 5.0 vs Smartisan OS 3.0
by Habeeb Onawole Dec 15, 2016 2:42 pm8
The advent of Chinese phones changed the smartphone market in no small way. Starting first as shameless rip-offs of other popular brands, they have now evolved into more refined devices that boast important features missing on the brands they used to imitate in the past. Most, if not all of these features are software-based and are built into the UI of each manufacturer.
Want to know how the top Chinese Android UIs compare against each other? Then you should read this to the end.
Xiaomi's MIUI is in its eight iteration already and offers tons of features but how does it compare against Meizu's recently announced Flyme 6 UI or Huawei's EMUI 5? Can anyone of them even stand against Smartisan OS 3.0?
Home Screen
All four UIs lack an app drawer by default, leaving you with an homescreen packed full with all your apps. If you are coming from an iPhone this shouldn't be an issue for you, however those switching from Samsung, LG, Motorola, Nexus or HTC phones will have a hard time adapting to this and might be forced to install a launcher with an app drawer. However, EMUI 5 has an additional setting that lets you choose app drawer mode.
From the image below, there is no much difference between MIUI and EMUI apart from the bottom row of icons which are lower in MIUI and still have texts beneath them. For Flyme OS, the icons are a bit bigger and are more spaced, making them cover more than half of the whole screen.
Smartisan OS on the hand differs completely, as its homescreen is filled with apps that reach the top of the screen, making it feel like you are still using an iPhone.
Another major difference is that while the other three UIs have texts beneath their icons, Smartisan OS gives you the option to toggle it on or off. This gives it a neater and more matured look compared to the other three.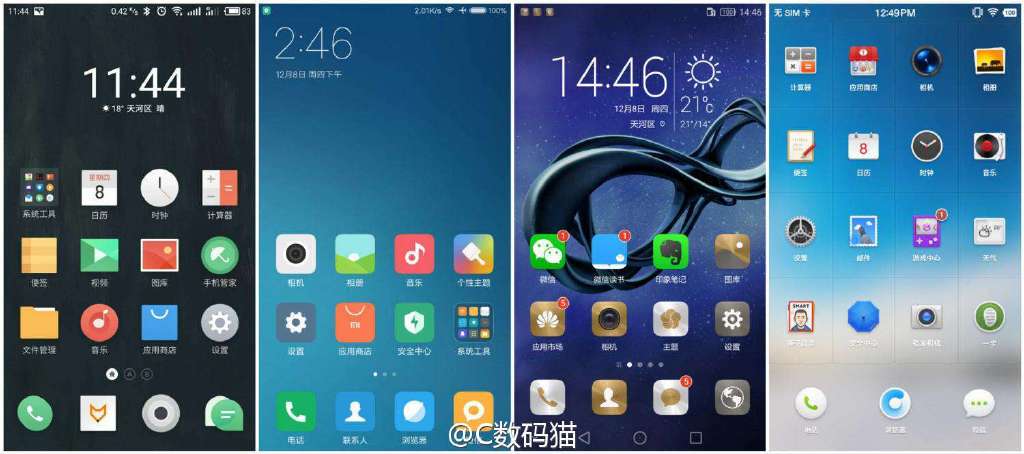 Notification Drawer/Quick Settings Menu
The notification drawer and quick settings menu differ for each UI. Flyme 6 and MIUI 8 both use a single page system where you have the quick settings shortcuts at the top and notifications at the bottom. MIUI 8 is however more colorful and has more features such as a search box at the top.
EMUI and Smartisan OS use a two-page system which presents your notifications on one page and quick settings shortcuts on the other.  You can flip between both pages via a single tap.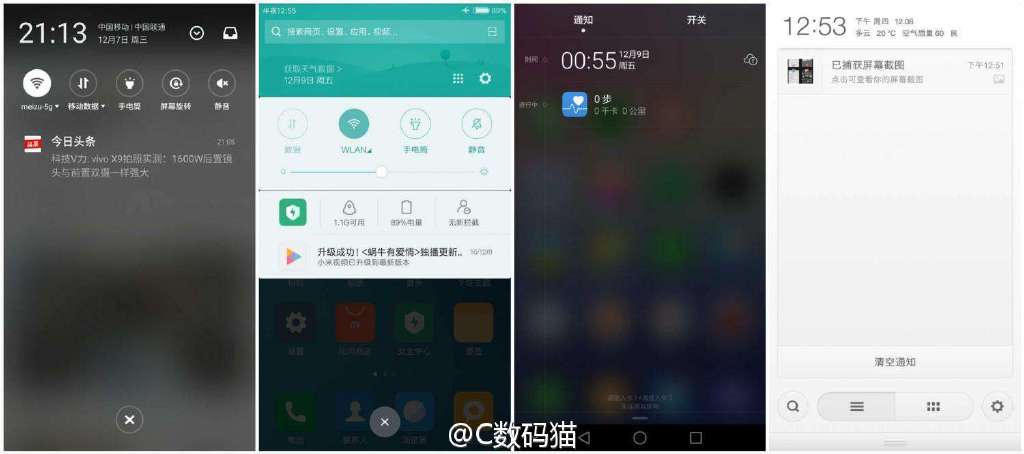 Recent Apps Menu
The recent apps interface is another place where the UIs are different. Flyme 6 uses a 3D carousel design to list the recently opened apps and Smartisan OS uses a flat card system (four apps per screen). MIUI 8 and EMUI 5 both use the same 2D flat design but in a different way. Instead of grouping them in fours like you have in Smartisan OS, they are arranged in a horizontal line which you can scroll through. MIUI 8 even has the option to shrink the cards into small icons in case you do not want to get a preview of what is currently running in each app.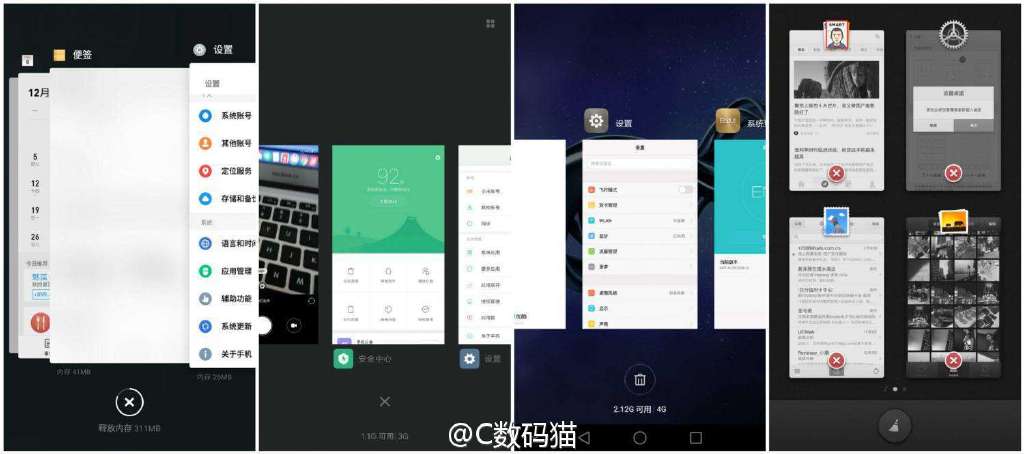 Special Features
Each UI has a unique feature of its own. Flyme 6 lets you customize what mode (a total of three modes) your phone unlocks to depending on the fingerprint you use to unlock the phone. MIUI on the other hand let's you use two accounts for the same app on a single device, so you can have two Whatsapp accounts, two Facebook accounts, and two twitter accounts and so on and so forth. EMUI 5 does the same (App Twin) but is limited to only Whatsapp and Facebook.
MIUI 8 also let's you create a second space on your phone which you can switch to with the tap of a button. This second space can consist of apps you use for work and you can customize what apps and files you want to show up from the main space.
EMUI's version of second space is called PrivateSpace and works more or less the same way as that of MIUI 8. While split-screen multi-tasking just came to stock android, it's been available on some other Android UIs like Samsung's TouchWiz and now, EMUI 5. We believe the split-screen feature will be available to all the devices getting the EMUI update irrespective of their android version.
READ MORE: Huawei Honor Magic to Offer Surprises Through Its Customized Android OS, EMUI
Smartisan OS has its own special features too. There is a built-in screen recorder which even lets you annotate the video while recording. You can also use the front facing camera to record yourself in case you are making a tutorial video. Smartisan OS also has a feature called Big Bang which is basically like Google's Now on Tap though not as feature rich.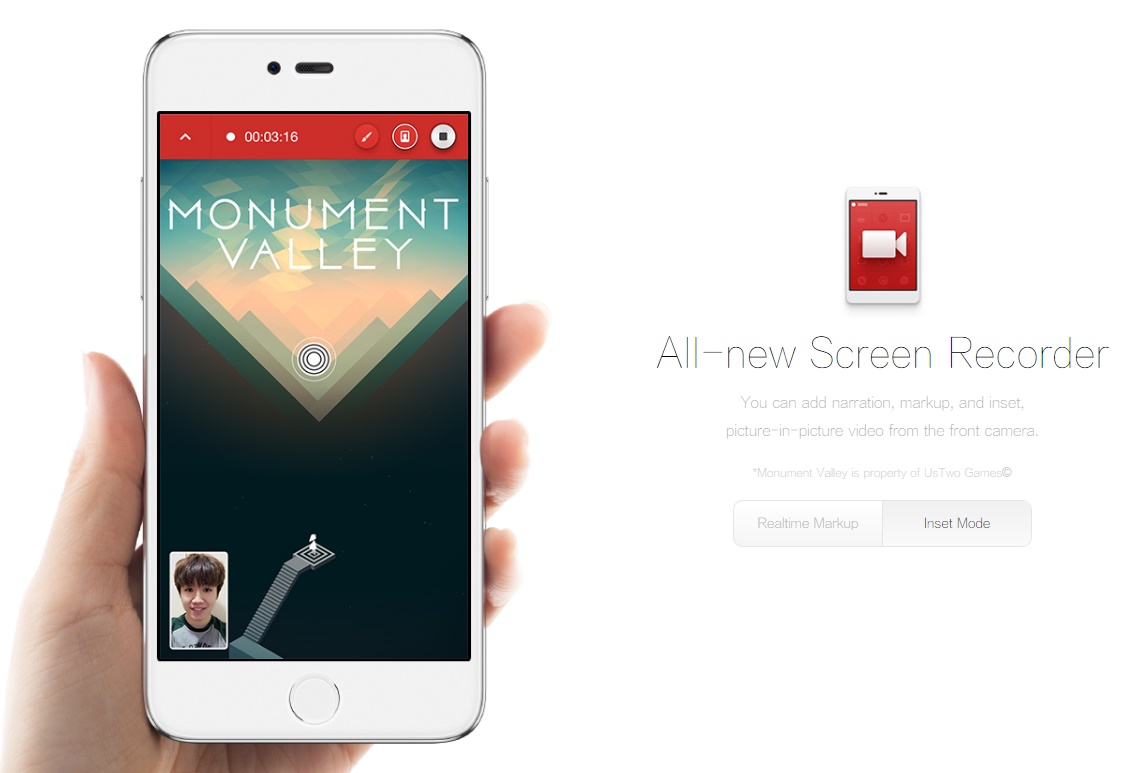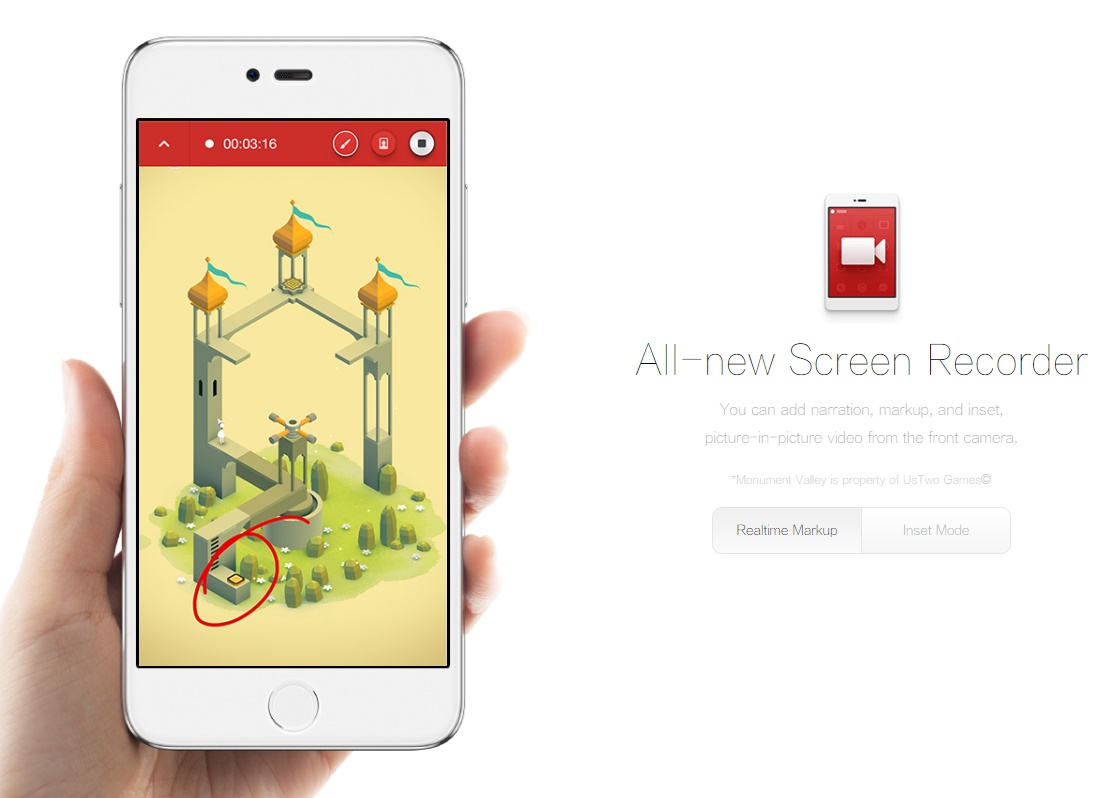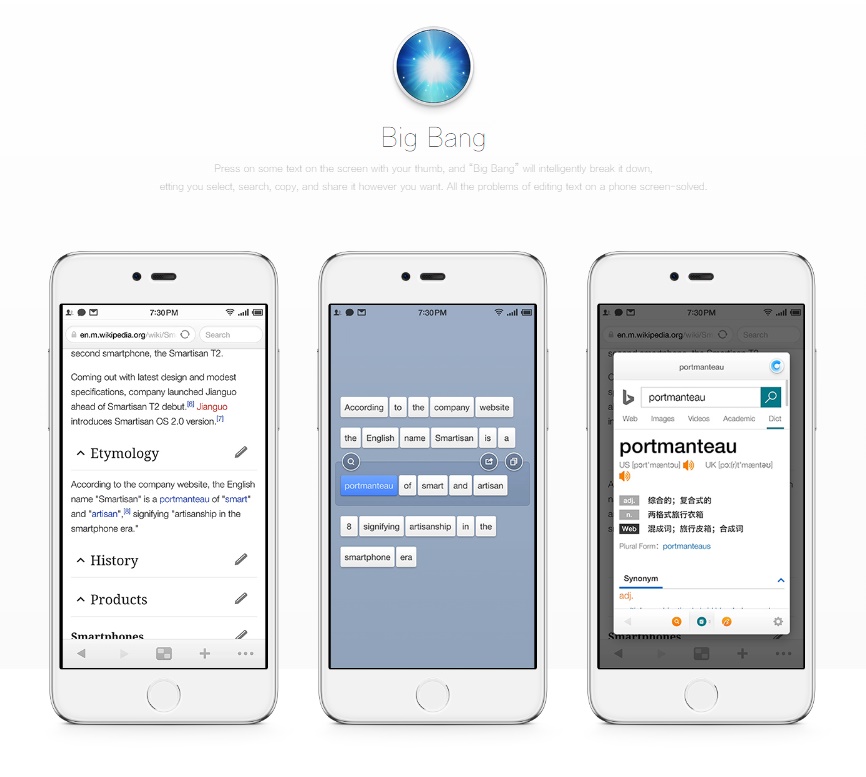 Which UI is your favorite? Are there any features we missed? Do let us know in the comment box.