Qualcomm Snapdragon 835 Specs Leaked In Detail: Octa-core Kryo280 architecture on a 10nm process!
Qualcomm has officially confirmed that it will reveal the brand new Snapdragon 835 chipset in detail at the upcoming CES event in Las Vegas. But someone decided to leak the details of the chip a couple of days in advance.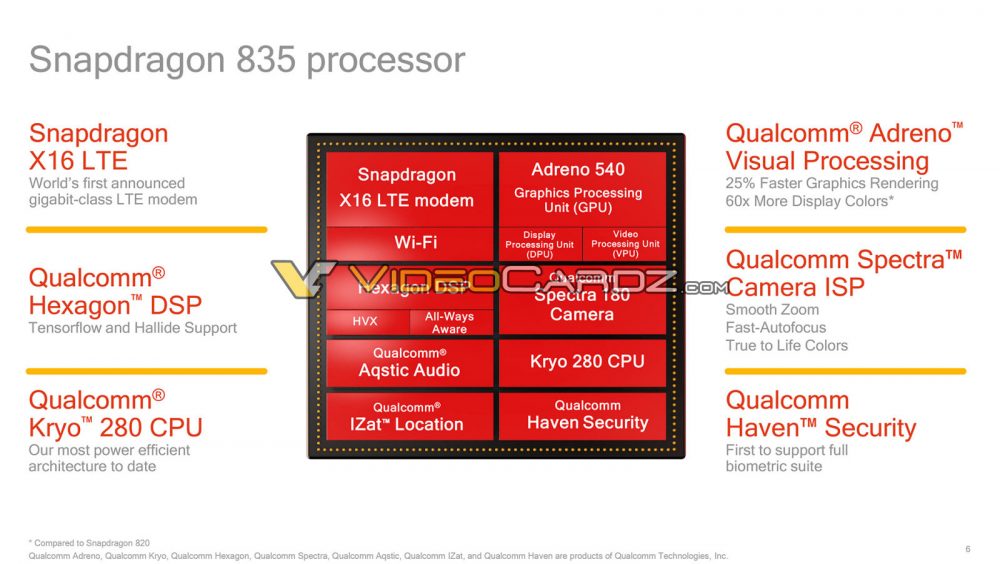 According to the new set of leaked images, the Snapdragon 835 will use a Kryo280 octa-core architecture. The company claims the 280 is its most efficient architecture till date, which really sounds exciting. Further, thanks to the improved efficiency, the Snapdragon 835 boasts of 50% power reduction as compared to the old Snapdragon 801 chip. This means in 2017, we will have not only powerful smartphones but also phones which will last longer than previous generation models.
RELATED: Qualcomm Snapdragon 835 Geekbench Results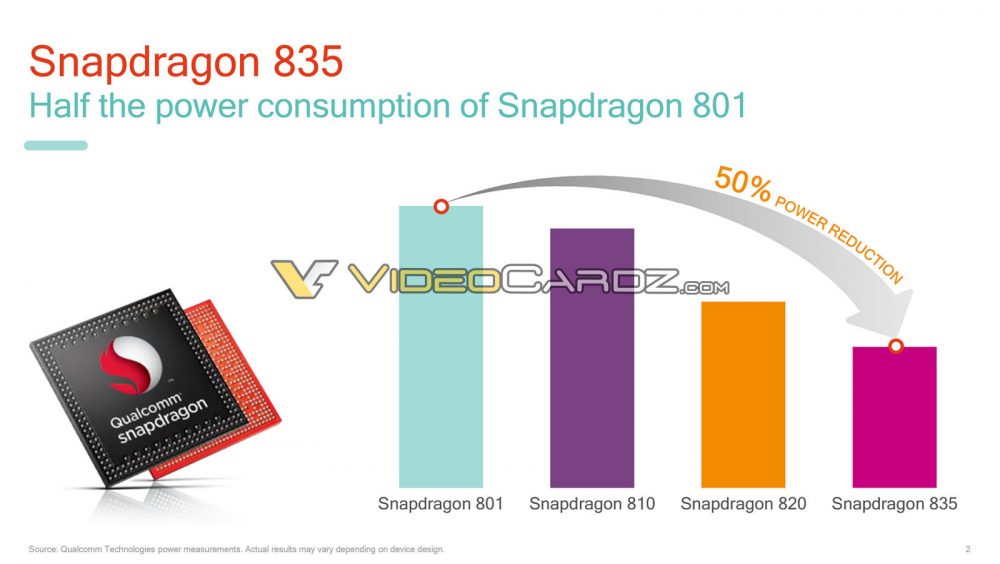 So, there will be two sets of cores in this architecture — 4 x performance cores @ 2.45GHz and 4 x efficiency cores @ 1.9GHz. The Snapdragon 835 also comes with a faster Adreno 540 GPU with support for DX12, OpenGL, ES and Vulkan applications. Other noted features of the new chip include Hexagon 690 DSP, Spectra 180 and the fast X16 LTE modem. The processor also comes with support for Qualcomm Haven Security (full biometric suite).
Since the SD835 is based on 10nm process, its smaller and much more compact than Snapdragon 820. This will translate into thinner and smaller smartphones, with more room for other components like battery.
Overall, the Snapdragon 835 processor seems to be a worthy update to the powerful SD821.
Note that these are just leaked images which haven't been confirmed by the company yet. But the details are in line with what we expected from the chip.
(source)