Helio X20 vs Snapdragon 625: Chips Inside the Redmi Note 4 Versions Compared
Xiaomi has just announced the international version of the popular Xiaomi Redmi Note 4 smartphone and as expected, there's one major difference in this new model as compared to the original version — the processor inside. Continuing the tradition, the company announced the Redmi Note 4 with the Qualcomm Snapdragon 625 chip inside, instead of the Helio X20 chipset that powers the Chinese variant of the model.
So, which ones better in terms of performance?
Helio X20 vs Snapdragon 625: Performance
If we are strictly comparing the performance of the two versions, then the Chinese Xiaomi Redmi Note 4 with Helio X20 is definitely the winner here. Mediatek's Helio X20 chip is actually meant to power flagship models, but like its predecessor — the Helio X10, the chip also ended up in mid-rangers like the Redmi Note series. This is great for mid-rangers because their performance is now taken to a whole new level. Considering how most Helio X20 models have at least 3GB or 4GB RAM versions, the combination of a powerful processor + ample RAM actually makes phones like the Redmi Note 4 great performers.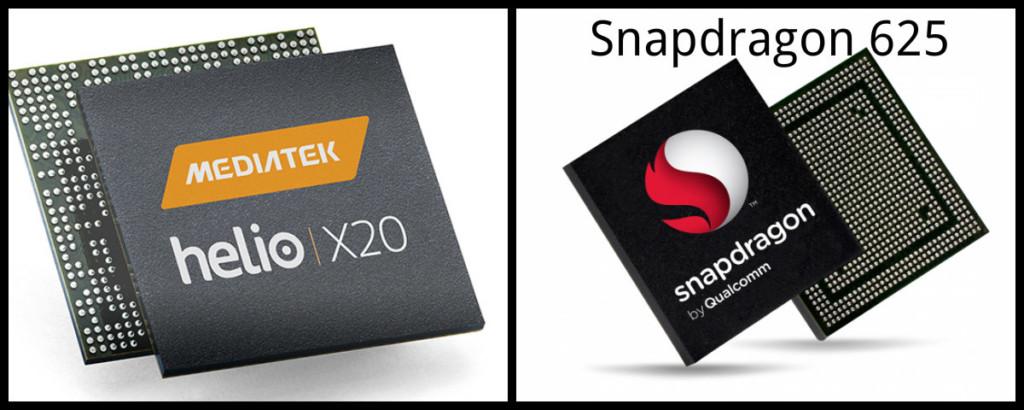 Coming to the Snapdragon 625, it's pretty decent. It's definitely not as powerful as the X20, no doubt about it. The SD625 comes with eight octa-core Cortex A53 cores clocked at 2.0GHz which is actually a tried and tested combination. It doesn't provide amazing performance as some tech enthusiasts would like, but it will be decent enough for normal users. In comparison, the Helio X20 features 2 x Cortex A72 cores @ 2.1GHz (power cores) + 2 X Cortex A53 @1.8GHz + 4 x Cortex A53 @ 1.4GHz (efficient cores). As for the GPU performance, both the chips should handle graphics pretty well.
Here are the AnTuTu and Geekbench scores for reference. Note that benchmarks don't really mirror real life performance, but they come in handy for comparing two chipsets.
Helio X20 scores around 85-90K on AnTuTu while SD625 scores around 60-65K. 
On Geekbench, Helio X20 gets around 1500 on Single-core and 4406 on multi-core tests. On the other hand, SD625 gets around 850 and 3160 in the same two tests respectively. 
RELATED: Xiaomi Redmi Note 4 Review (Helio X20 version)
Helio X20 vs Snapdragon 625: Power Efficiency
Here, the Snapdragon 625 should have an edge. The chip comes with eight power efficient cores, which although may not be powerful, they are super efficient. This along with the 14nm manufacturing process will ensure that the battery on the Redmi Note 4 is amazing. Remember that both the models come with 4100mAh battery and on paper, the battery life should be better on the SD625 version as compared to the Helio X20 model.
Interestingly, Mediatek has always maintained Helio X20 to be super efficient, thanks to its tri-cluster architecture and 20nm manufacturing process. So, be sure of one thing, the battery life on both the versions are going to be pretty good! It's a pity that both the models don't feature fast charging.
RELATED: Xiaomi Redmi Note 4 vs Moto G4 Plus vs Nokia 6
Helio X20 vs Snapdragon 625: Version Pricing
Xiaomi Redmi Note 4 with Helio X20 was launched a while back (in August 2016) starting at around $135. The Redmi Note 4 with SD625 that was announced today start at $146.
RELATED: Xiaomi Redmi Note 4 Gets New Color Variants
So, which version would you prefer? I know the two versions are kind of exclusive to a particular region (Helio X20 in China and SD625 in India) but if you had to choose between the two, which one would you pick? I personally feel, something like the Snapdragon 650 would have been a better choice inside the Indian version, as the two Cortex A72 cores make sure that it's better than the SD625 in terms of performance. The big battery anyway ensures that the phone will last more than a day, so efficiency shouldn't have been a big factor in choosing the chip.
What are your thoughts?