Hugo Barra joins Facebook as VP of Virtual Reality
by Habeeb Onawole Jan 25, 2017 11:58 pm0
We woke on Monday to news of Hugo Barra's resignation as Xiaomi's Vice-President of International. Mr. Barra had cited his desire to be closer to home as the reason for leaving and returning to Silicon Valley. When he made the announcement, nobody knew what new project he'd be embarking on or which company he'd be joining. However, a few hours ago he took to his twitter page (@hbarra) to announce that he'd be joining Facebook as the new Vice-President of Virtual Reality.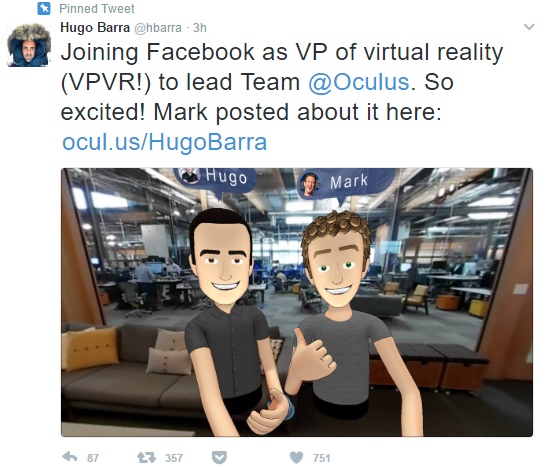 The announcement was also made on Facebook by Mark Zuckerberg who said Hugo Barra's position as lead of VR will also cover the Oculus team. There is no mention of when exactly he'll be resuming the position as he is still in China. But a follow up comment made by Hugo Barra himself says "in a couple of months".
Mark Zuckerberg has shown great enthusiasm for virtual reality as he believes that is the next big thing. Hugo Barra also seems to share the same enthusiasm. During his tenure at Xiaomi, the company launched two VR glasses: the Xiaomi Mi VR Play which is more like a refined Google Cardboard; and the more sophisticated Mi VR Headset.
READ MORE: Qualcomm Snapdragon 835 will Provide better VR Experience with Great Battery Life
Oculus is currently in court after being sued by Zenimax, a parent company for a number of gaming studios. Zenimax is accusing Oculus' CTO, John Carmack of leaking intellectual property to Oculus while he was at Zenimax.