Instant Apps Surfacing on Some Android Devices Already
by Habeeb Onawole Feb 14, 2017 3:13 am0
At last year's edition of Google I/O, one of the new features Google announced will be coming to Android soon is Instant Apps. Instant Apps are apps that you can use without installing on your phone. If you come across an instant app while searching on Google, all you have to do is tap on the icon and you are ready to use the app. The app can be as simple as a ticket booking app, a shopping app, or a weather app. Once you are done with it, that's the end.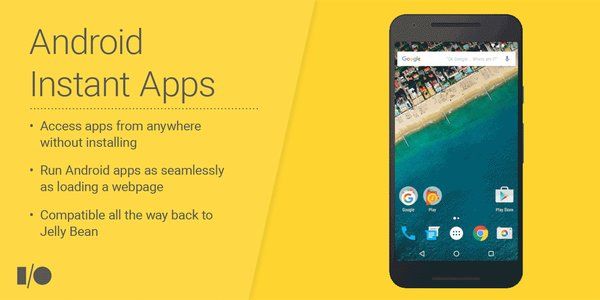 Instant Apps are actually not new. In China, popular messaging app WeChat has what is called Mini Programs within its app. Mini Programs work in a similar fashion as instant apps. They are embedded within the app you are using and don't show up in your main app list. You can install a mini program by scanning a QR code or installing one friend shares. While the apps remain within the WeChat app, a simple swipe is all you need to remove them.
A number of the mini-programs available on WeChat include a photo editing app like Prisma that applies filters faster than Prisma, a movie ticket booking app, and a McDonalds app for coupons. WeChat rolled out the service early January.
Some Android devices have started getting the service and the first app is shopping app, Wish. Instant Apps are going to be available to devices running Android 4.1 and up.
Instant Apps are built just the way your regular android app is. It uses the same APIs, the same package, and source code. The difference is that you do not need to head to the Play Store to install it. You also do not get features associated with regular apps such as background services, background notifications, or access unique device identifiers.
READ MORE: Google Play Store Censored Edition Coming to China?
To use Instant Apps go to Settings > Google > Instant Apps > Click the switch > Agree to the terms. If you don't see the setting, then it isn't yet available for your device.