Sharay Shams, the Middle East General Manager for Smartphones for Lenovo had confirmed recently that the company would be launching 12 Moto Mods in this year. Recently, a walkie-talkie Moto Mod by Linc was spotted on Indiegogo crowdfunding site. Now, a new Moto Mod with QWERTY keyboard slider has surfaced on the site.
The QWERTY keyboard has a landscape design with five rows of keys and its top line of keys is occupied by numerals. The alphabet keys along with other keys are present on the next three rows.
It has a big-sized Enter key that occupy on the second and third row at the right side. The fifth row features a large-sized Space bar. The reason why this Moto Mod comes with a landscape mode rather than a portrait design is that the former can feature larger keys for better typing experience.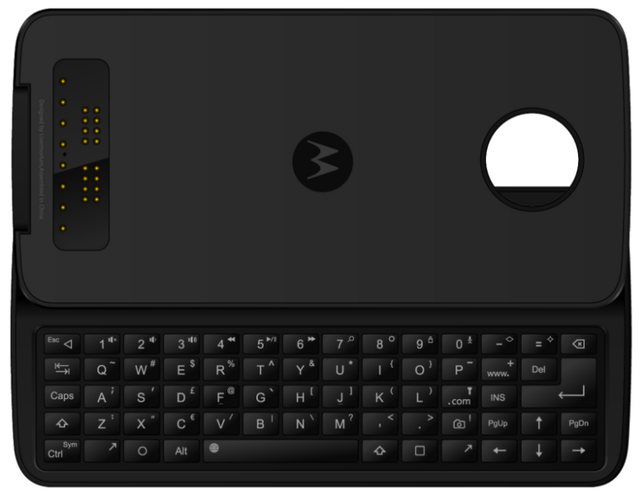 Related: Moto Z Linc Moto Mod Transforms it into A Walkie-Talkie
The keyboard also features a 2,100 mAh battery. LivermoriumLtd, the developer of the project has expressed on Reddit that if sufficient funds are accumulated, Qi wireless charging feature will be added to the keyboard. There is a Motorola batwing logo present on the Moto Mod QWERTY slider keyboard.
Indiegogo has a dedicated page that says that this Moto Mod is arriving soon. Users who are interested can add their email address on that page to register for it to receive new updates on it. It is expected to be a quality product because it will not only be designed by a professional team but also it will undergo manufacturing at Foxconn. The physical keyboard Moto Mod is targeted to be available for shipping in June.
It seems that when the physical QWERTY slider is in use on Moto Z or Moto Z Play, users will not be able to access the rear camera. The current design of the sliding Moto Mod keyboard suggest that it will slide-out in such a manner that it will be blocking a small part of the rear camera.  On Reddit, users can provide their suggestions or feedback on the proposed design.
As of this writing, its pricing has not been announced. LivermoriumLtd is also considering a gamepad Moto Mod, but currently the developer is mainly focusing on releasing a general QWERTY keyboard that can appeal all users. The physical QWERTY keyboard slider Moto Mod will work on Moto Z, Moto Z Force, Moto Z Play and their Droid versions.
(source)