BlackBerry KEYone, dubbed as the most secure Android smartphone ever, was introduced at Mobile World Congress (MWC) 2017. TCL, the Chinese firm that oversees hardware and distribution of BlackBerry smartphones is rumored to be working on a midrange smartphone as its freshly leaked photos have surfaced.
One of the key markets where BlackBerry has been consistently doing decent business is Indonesia. In the last quarter of 2016, BlackBerry signed a pact with the Indonesian PT BB Merah Putih for launching BlackBerry devices in the country. In December 2016, a BlackBerry device with model number BBC1001-1 was seen on POSTEL, an Indonesian regulator website.
The leaked images of the mysterious BlackBerry-branded smartphone seem to belong to the BBC1001-1 smartphone that is rumored to be targeted towards Indonesian market.  The leaked images suggest that it may be a midrange smartphone.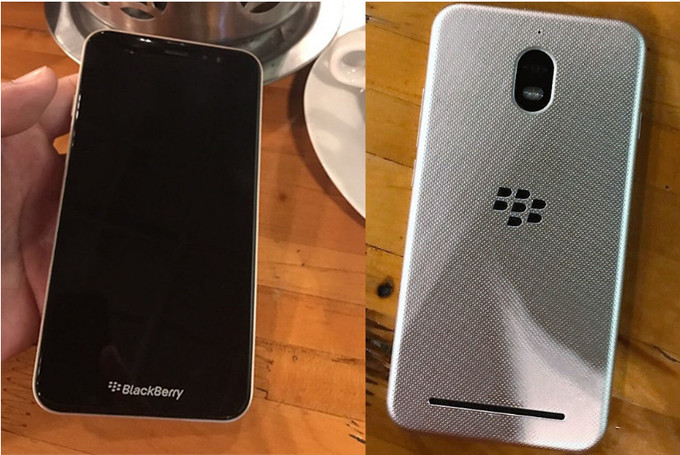 Related: Nokia Sued by BlackBerry for Infringing Patents
The first image shows the front side of the device with the BlackBerry logo and company name on the bottom bezel. The second image shows the grey colored rear panel that houses a camera module at the top, a large-sized BlackBerry logo at the center and a speaker grille at the bottom.
According to leaked information that had surfaced in December last year, the BBC100-1, it will be arriving with a 5.5-inch display that will be supporting an HD resolution of 720 x 1280 pixels. It is rumored to be fueled by Snapdragon 425 SoC that features an octa-core processor working at 1.4 GHz.
The SoC is pegged to be supported by 4 GB of RAM.  It is expected to feature 32 GB of native storage. It is speculated to support dual-SIM cards and come equipped with a 3,000 mAh battery.
The leaked photos have reportedly surfaced after TCL CEO Nicolas Zibell confirmed that it will be releasing two more smartphones this year. Speculations hint that one of them is the BBC100-1 midrange phone. However, there is no confirmation on whether the smartphone would be released outside of Indonesia. Rumors have it TCL is also working on successor models for BlackBerry DTEK50 and DTEK60 from last year.
(source)