Huawei is the most Favorite Domestic Brand in China, Survey reveals
A recent survey in China has revealed that Huawei is the favorite domestic brand among a lot of folks who responded to the survey. The survey was carried out by the Global network of global public opinion survey centre and the categories were domestic brands, as well as a foreign brands category and a third on others.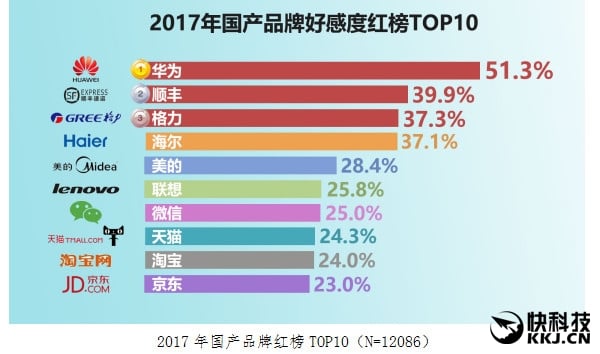 On the entire domestic brands spanning various industries and not only the technology sector, Huawei came far ahead with 51.3%. Its closest rival SF came in at 39.9%. Another surprise inclusion is Gree which sits at number 3with 37,3%. Gree is a technological giant in China with its products cutting across several areas, including smartphones. Haier and Midea complete the top 5 with 37.1% and 28.4% respectively. Except you factor Gree as a smartphone brand, the next position where a major player in the smartphone industry comes in is at number 6 with Lenovo claiming that spot. Lenovo is closely followed by social media giant WeChat, and finally, e-commerce platforms TMall.com, Taobao and Jingdong (JD.com) complete the list.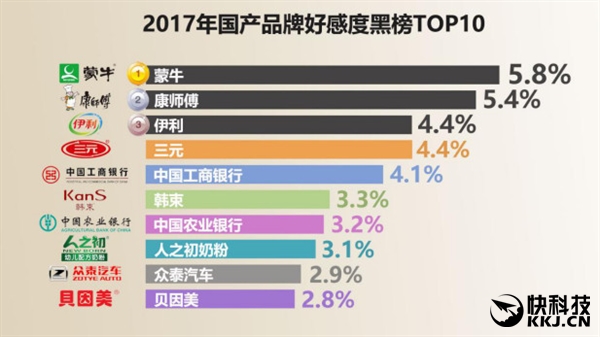 This recent survey result is an indication of the popularity of Huawei in China and this popularity is likely because of their leading role in the telecoms sector including aspects such as mobile phones, tablets, wearables, broadband devices and home devices. It is noteworthy also, that Huawei's smartphone division also sits at number 3 position in the global smartphone top 3 spots.
Read Also: New Huawei Phone with OLED Display and 4000mAh Battery Seen at TENAA
The survey also factors the top 10 least favorite brands, perhaps due to their poor customer relationship or difficulty transacting business with them. Here we have outfits like Bank of China, Mengui, Agricultural Bank of China, Zhongtai Automobile but thankfully, there is no technology brand.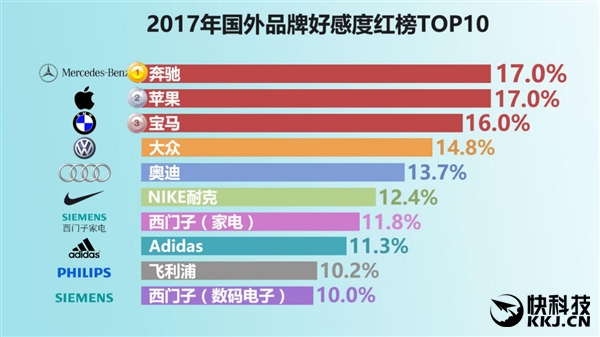 On the foreign brands, Mercedes-Benz and Apple jointly occupy the number one spot of top 10 favorites while they are followed by BMW, Volkswagen, Audi, Nike, Siemens Appliances, Adidas, Philips and Siemens electronics. The list is a reflection of the classy taste of the Chinese public especially the younger populace.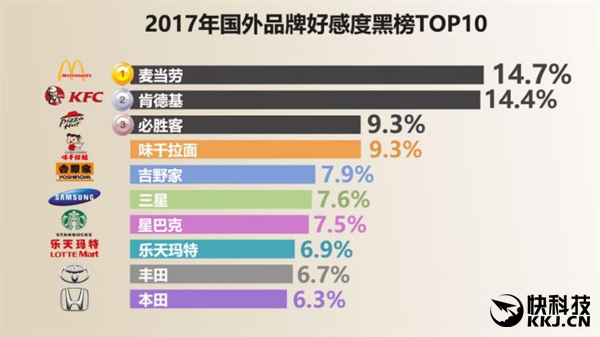 On the opposite end (least favorite), the top 5 spot is surprisingly occupied by companies in the food industry; McDonalds, Kentucky Fried Chicken, Pizza Hut. It might interest you to note that the global leader in the smartphone industry, Samsung is listed among the top 10 least favorite or blacklisted brands, alongside fellow Korean company Lotte. Toyota and Honda, two Japanese brands are also on the list. Shocking, isn't it? We can't say for sure, the criteria used or the research methodology deployed to collate these data, so it's just apt that we don't take this survey too serious.