Samsung Galaxy S8 2 Piece Cover is Ugly; What Were They Thinking?
by Anvinraj Valiyathara Mar 30, 2017 4:52 am1
Samsung has announced a couple of cases and covers for Galaxy S8 and Galaxy S8+ flagship phones. Both phones are aesthetically beautiful as they feature a widescreen with super-slim bezels and their rear sides are flanked with glass panel. The various cases that have been announced for Galaxy S8 duo such as Clear View Standing Cover, Alcantra Cover, and Keyboard Cover do not hamper their beauty, but the only word that can be best used to describe the Galaxy S8 2Piece Cover is – Ugly.
The 2Piece Cover is rumored to be priced around $20. It features two clip-on parts, one for the top and the other one for the bottom. It comes in multiple colors. As it can be seen in the image of the 2Piiece Cover, a major portion of the glass back of Galaxy S8/S8+ remains exposed.  Also, there is a risk of getting those pieces detached instantly when the handset is dropped. It is interesting to note that the 2Piece Cover was internally called as "bikini case."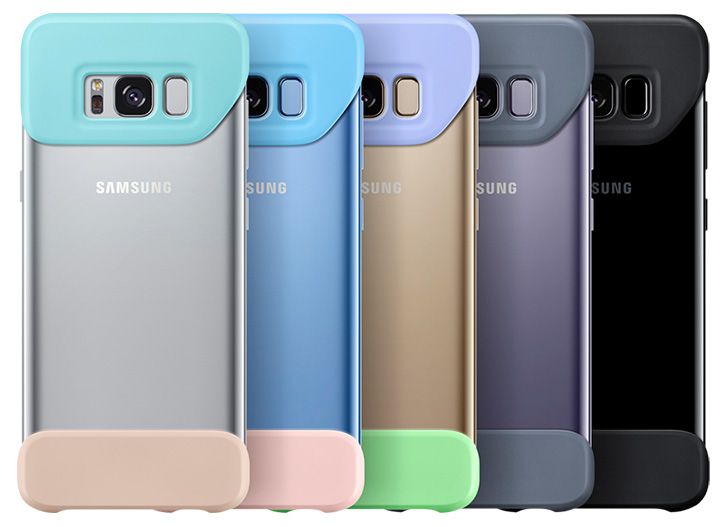 Related: Samsung Galaxy S8 Official: 2K AMOLED, IP68 Water Resistance, Bluetooth 5.0 & More!
This is how Samsung advertises the 2Piece Cover for Galaxy S8 and S8+ on its official site, "Liven up your phone with colorful shapes. The complementary hues of each cover add a unique geometric vibe that enhances Galaxy S8 and S8+'s design while the suction pads make the pieces attach and detach with ease." On the contrary, the image showing the Galaxy S8 and S8+ wearing the 2Piece Cover show how ugly they appear. It can be easily assumed that the $20 2Piece Cover will do no good in protecting a $749 priced Galaxy S8 flagship phone when it drops.
The 2Piece Cover is already receiving poor reception from the audience. Cases and covers are meant to protect and amplify the beauty of the phone. However, the 2Piece Cover for Galaxy S8 and Galaxy S8+ seems to fail in both aspects. Hence, we wonder whether it will attract many buyers. What about the rest of the Galaxy S8 accessories? Well, they all seem to appear fine.
What do you think about the Galaxy S8 2Piece Cover? Will you buy it for you Galaxy S8? Do let us know your thoughts by posting your comments below.