Google April Fool's Day Pranks From 2000 to 2017
by Habeeb Onawole Apr 1, 2017 5:15 pm0
April Fool's Day has evolved from people playing pranks on each other to involve global brands doing the same to the general populace. Tech giant, Google has been doing this for years and we thought it'd be fun to revisit some of their pranks from the year 2000 till date.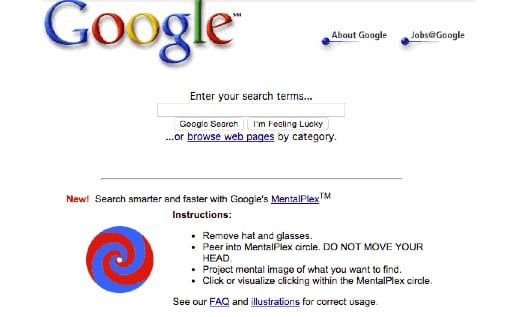 You can tell this is pretty old based on the way the search page looks. Google MentalPlex was a "special" search technology that required you to search for something by staring at the MentalPlex circle and thinking of what you wanted to search for. No need for manually typing search terms. If you clicked on the MentalPlex circle for you result, you got a result for April Fools and a message saying your search result was unclear.
2004: Google Moon Recruitment
This prank for 2004 involved Google making a fake recruitment for new staff for its moon research center scheduled to open n Spring of 2007. It was simple and straightforward.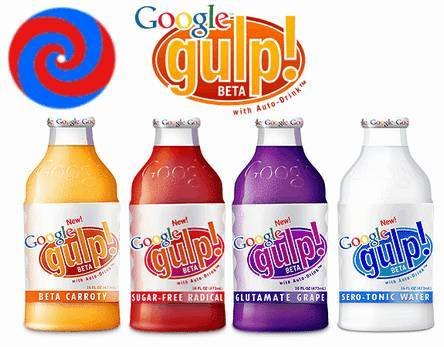 Google Gulp Beta was a set of flavored smart drinks launched by Google in 2005. There were four flavors: Beta Carroty, Sugar-free Radicals, Glutamate Grape, and Sero-Tonic Water. Pretty cool flavor names. Gulp Beta was said to increase intelligence and optimize the use of Google Search.The only way to get Google Gulp was to find someone who had a bottle cap of the drink. I can only imagine all those who went in search of a bottle cap only to find out it was a prank.
Did this inspire OnePlus's Dash Energy Drink? We think so.
2006: Google Romance
Google Romance was setup to help you find a like minded lover. I guess Google gave the Tinder team the idea for their app.
Gmail Paper was a hoax website created for users to print emails instead of deleting them. Google will print the e-mails and send them to you free of charge. Cost of shipping and printing was covered by the ads written on the back of the pages.
2008: Mars Settlement Plan (Project Virgle)
Google's prank for 2008 was project Virgle and it was a mars settlement plan that was going to extend till 2018. It included choosing a settlement on the planet in 2010; the deployment of equipment to space in 2014; construction of a settlement on the planet in 2015; transporting of humans to Mars in 2016; and by 2108 virgle City will be a flourishing human habitat.
This was a prank to get you to print fake 3D glasses you could use to view google chrome in 3D.
2013: Google Nose
Google Nose was built in 2013 as a way to be able to perceive things you search for on the web. All you had to do was enter your search term and click on smell test and then "start sniffing".
2014: Google Chome Emoji Translator
This was an emoji translator that converted written text into emojis
2015: Google Maps Pac-Man
Google maps was turned into a Pac-man game. This same prank has been repeated this year. Open Gmaps on your browser and by the left bottom corner,select insert coin. Your current location will be changed to a Pac-Man game that you can play using the directional buttons.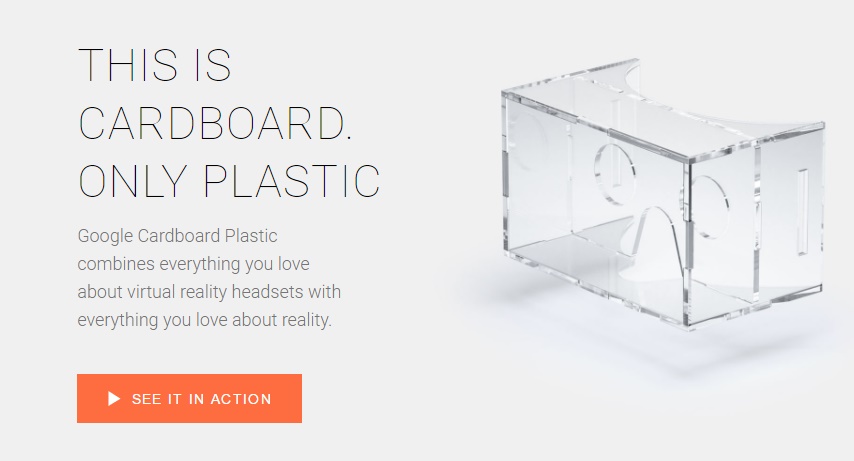 VR was really popular last year so Google decided to play this nice prank on people. It was a transparent piece of plastic designed like Google's Cardboard that let you see the world as it was. Google called the technology Actual Reality.
2017: Google Gnome, Google Wind, Haptic Helpers
Google Gnome: works just like Google Home but for outdoors. It will tell you what the weather is like, control your water hose, and decline requests that should be handled by Google Home. It will also tell you what direction the Wind is blowing from.
Google Wind: Developed by the Google team in The Netherlands. It is a project that connects all the wind mills in the country together and makes them work as giant fans that can blow rain clouds away. The reason for this is because The Netherlands experiences a lot of rain annually, so there is usually little sunshine.
Haptic Helpers: This is aimed at Virtual Reality lovers. A haptic helper is an individual that will come to your home to simulate experiences that accompanies your VR experience. Is the wind blowing in your VR game, then the haptic helper will hold a fan to your face. Did you get pricked by a cactus, the haptic helper will pinch you.
That's all for the Google April Fool Day Pranks. Make sure you play safe when pranking others.