New Samsung SM-G888N0 Phone Gets WiFi Certification: Is it the Galaxy S8 Sport or Galaxy X?
by Habeeb Onawole Apr 15, 2017 9:33 am0
A new Samsung phone has been spotted on the website of the WiFi Alliance after getting certified. The phone's model number is listed as SM-G888N0 but we are unsure what device it is.
The model number is similar to that of the Samsung Galaxy S7 Sport (SM-G880) which was released last year. For those who don't know, the Sport series is a separate line aimed at fitness enthusiasts. Unlike the original flagship, the Sport has physical buttons instead of capacitive ones and a bunch of fitness related apps and hardware. It also has a rubberized body. The Galaxy Sport series are usually exclusive to Sprint and are different from the rugged "Active Series".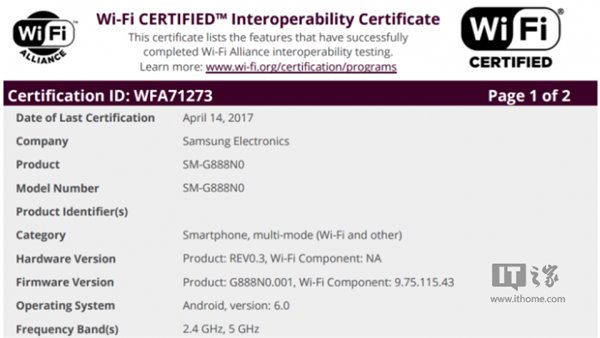 Since this new device is almost identical in terms of the model number to the S7 Sport, some say it may be the Galaxy S8 Sport. However, the "N0" at the end signifies it is destined for the Korean market. That singular difference gives rise to a second opinion.
Like I mentioned above, the Sport is a Sprint exclusive device so if this phone is for the Korean market, it is not the Galaxy S8 Sport. Plus the model number for the Galaxy S8 Sport should probably be SM-G890 based on the fact that the Galaxy S5 Sport is SM-G860 and the S7 Sport is SM-G880. There was no Sport version for the Galaxy S6 or it would have had the SM-G870 model number.
READ MORE: Samsung Increases Production of Galaxy S8+ Following Positive Reports From Retailers
So what phone is the SM-G888N0 that makes it limited to Korea? Probably the Galaxy X prototype with two AMOLED displays. Reports say Samsung is working on a sort of flip phone with two AMOLED displays connected by a hinge, allowing it to fold out like a notebook. Only a few thousand units will be produced so it makes sense to limit it's availability to South Korea.
(Source)