OPPO R9S is Top Selling Smartphone by a Chinese Manufacturer
A survey result by Sino research has shown that the OPPO R9S released late last year is the most popular domestic smartphone brand in China. The R9S outpaced popular brands like the iPhone 7 and has a single phone market share of 5%. In terms of popularity, the OPPO R9S is followed by Vivo X9 and then iPhone 7 and others.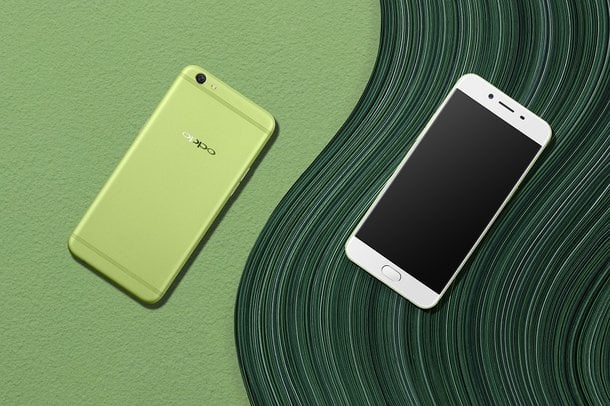 The survey also showed that 78.7% of young phone users between the age of 18 – 23 years prefer the R9S and as a result, the OPPO smartphone has the highest sales in Beijing, Chengdu and Shanghai. Also interesting of note is the trend where iPhone 5S and iPhone 6 users replaced their phones with the R9S.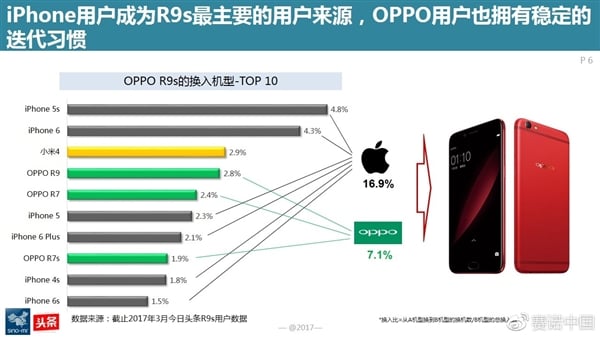 Read Also: OPPO Goes Green, OPPO R9S Gets A Fresh New Color Variant
Before this latest report, the OPPO R9S has been a high flying model, revealed to have grossed over 3 million units in sales in January 2017 alone. The OPPO R9S isn't a very cheap smartphone, priced at 2799 Yuan ($416) but its great design and rich specs lineup make it a hot selling piece. The company has continued to refresh the line in order to make it more appealing to more persons by adding a red variant and recently a fresh green colour variant.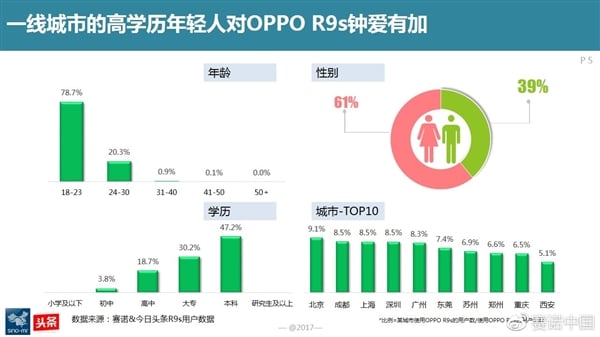 As a reminder, the R9S comes with a 16MP Sony IMX398 sensor at the rear, which is said to be jointly developed by OPPO and Sony. The sensor is reportedly fast and comparable to SLR camera speeds and there is also dual-core focus as well as dual LED flash on board. The R9S is powered by a Snapdragon 625 chipset backed by a 4GB RAM and there is 64GB storage among other features.