Huawei's Official Response on P10, P10 Memory Issue Creates Uproar; Company Acknowledges Arrogant Response
by Anvinraj Valiyathara May 1, 2017 2:57 am2
The Huawei P10 and Huawei P10 Plus memory issue refuses to die. The official statement that Huawei had released in the previous week did confirm that it had intentionally used memory chips of different types that produced different read and write speeds on these phones despite the fact that they were advertised to feature UFS 2.1 storage. Now, Richard Yu, the mobile chief of the company has posted on Weibo, China's popular social site, that the official response on the issue was arrogant.
As mentioned above, the Huawei P10 and P10 Plus were advertised to feature UFS 2.1 storage. It has been found that only some variants of the P10 duo feature LPDDR4 RAM and UFS 2.1 storage that deliver optimal performance. The company is speculated to use even slower performing LPRDDR3 RAM and storage types like eMMC 5.1 and UFS 2.0 on the Huawei P10 and P10 Plus smartphones.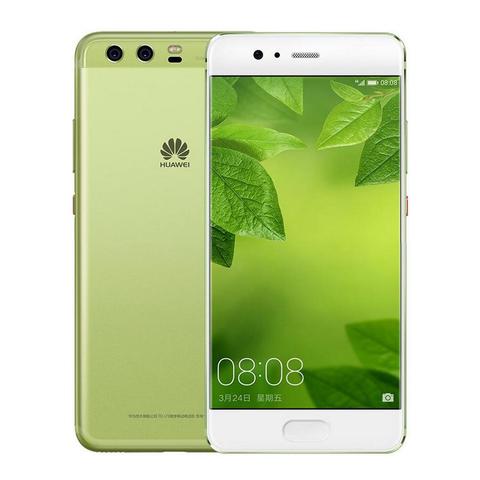 Read More: Huawei P10 Memory Scandal: Removes UFS 2.1 Description from Official Mate 9 Website
The eMMC 5,1 storage produces a slow speed of less than 300 Mbps and even the highest configuration model of Huawei P10 Plus featuring 6 GB RAM and 128 GB storage has been found to be equipped with eMMC 5.1. Here is an excerpt from its official statement:
"To meet global demand of millions of units, Huawei has employed the standard industry practice of sourcing solutions from multiple trusted suppliers to ensure a balance between user experience, quality and sustainable supply. Relying on a single component supply can lead to a shortage, meaning delays for consumers who wish to buy our new products. In the case of flash memory, in this instance, Huawei has chosen multiple simultaneous mainstream solution suppliers."
"Among all Huawei P10 marketing collateral, there has been no commitment to the use of only one specific flash memory," the company said. It disagreed on making any "discrimination or intention to defraud consumers."
The company's response did appear arrogant as it was met with annoyed replies by P10 users. Customers have accused the company for selling substandard P10 and P10 phones at a flagship price. One of the users posted on Weibo." How dare you cut corners on such an expensive flagship! Conceal the differences at first and then say the differences don't matter once busted."
Yu has sent out a letter to his staff. In the reply, he states that the P10's ongoing controversy is a "wake-up call" and he also acknowledged that he reacted on the issue in an arrogant manner. He added that different opinions on the issue should be heard carefully and dealt with humility.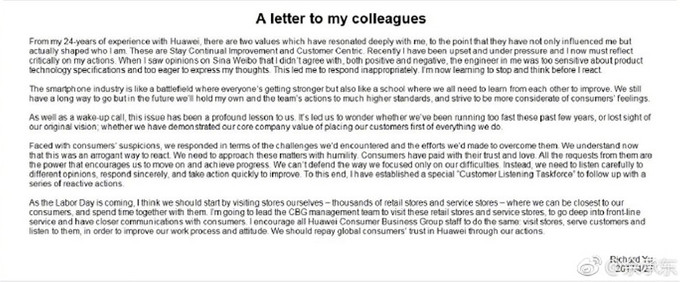 To resolve the problem, Yu has formed "Customer Listening Taskforce" He wants the Huawei's staff to visit its thousands of retail and service centers to meet the customers and spend time with them. To have a closer communication with the consumers, Yu will be leading the Consumer Business Group of the company. Even though he said that we would repay the trust of its worldwide customers through its actions, he did not share any specific information on compensations to P10 and P10 users.