Several leading smartphone brands from China such as Huawei, Vivo, Xiaomi, and LeEco have launched phones with dual rear cameras. Other Chinese brands like OPPO and OnePlus are also rumored to respectively OPPO R11 and OnePlus 5 featuring dual rear cameras. Now, another Chinese smartphone company, Meizu is rumored to be working on a dual rear camera phone, the Meizu Pro 7.
The Meizu Pro 7 is the alleged flagship phone from the company for this year. A new image that has appeared on Weibo reveals that the Pro 7 may come with a twin camera on its behind.  The recent rumors of the phone have consistently suggested that it would be coming with a dual edge curved screen like the Galaxy S8 and Galaxy S8+ phones. However, none of the previous rumors have stated that it features a dual rear camera setup.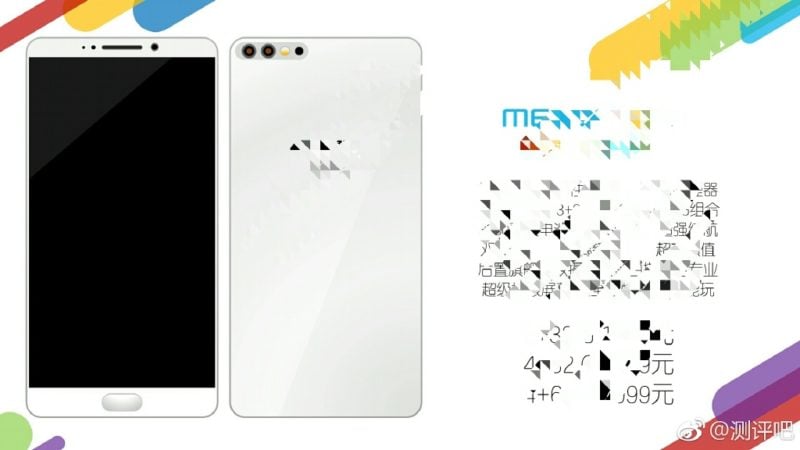 Read More: No Full Screen, Bezel-less Phone Coming From Meizu This Year, VP Hints
The above image that has surfaced on Weibo shows the presence of a horizontally arranged dual rear camera on the top left corner of the back panel of the alleged Meizu Pro 7.  The antenna bands are not visible on the rear panel. The camera appears to be coupled with a dual-tone LED flash. The left and right bezels of the Pro 7 appear almost unnoticeable. The top bezel houses a selfie snapper and couple of sensors whereas the bottom bezel has a physical Home button that probably houses a fingerprint scanner. The new image seems to be similar to the leaked render of Meizu Pro 7 that surfaced around 4 weeks ago.
The information present on the right side of the phone seems to contain details on variants and pricing of Meizu Pro 7. Since that part is not clear, it can be only guessed that the alleged phone would be coming in multiple RAM variants of 3 GB and 4 GB and storage models like 32 GB and 64 GB. As of this writing, there is no confirmation that the image really belongs to the Pro 7.
Speculations have it that the Meizu Pro 7 will be running on Snapdragon 835.and it is expected to house a 5.7-inch 2K display. Previous rumors that talked about the details of the single rear camera revealed that it features a Sony IMX362 12-megapixel camera sensor. However, there is no information available on the configuration of the purported dual camera feature of Pro 7