Since the OnePlus 3 and OnePlus 3T smartphones received positive reception from audience and critics, a lot is expected from the rumored OnePlus 5. The rumor mill is consistently revealing leaked information on OnePlus 5. Yesterday, we had reported on the key specs of the upcoming flagship phone. The alleged smartphone is already listed on OppoMart with its entire specifications and pricing even before the official announcement. However, the listing states that it is unavailable for purchase as it "out of stock."
New rumors claim that the OnePlus 5 would be announced at the end of June. The OnePlus 5 listing that is still available on OppoMart features an image that shows the smartphone sporting a vertically arranged dual rear camera setup. The specs list on the Chinese retailer site shows that it has a 5.5-inch display that carries support for quad HD resolution of 2,560 x 1,440 pixels.
It receives power from the Snapdragon 835 chipset that includes a 2.45 GHz octa-core processor and Adreno 540 graphics. It is available with 6 GB of RAM and it has two storage options such as 64 GB and 128 GB. It is running on Android 7.0 Nougat OS that is flavored with OxygenOS skin.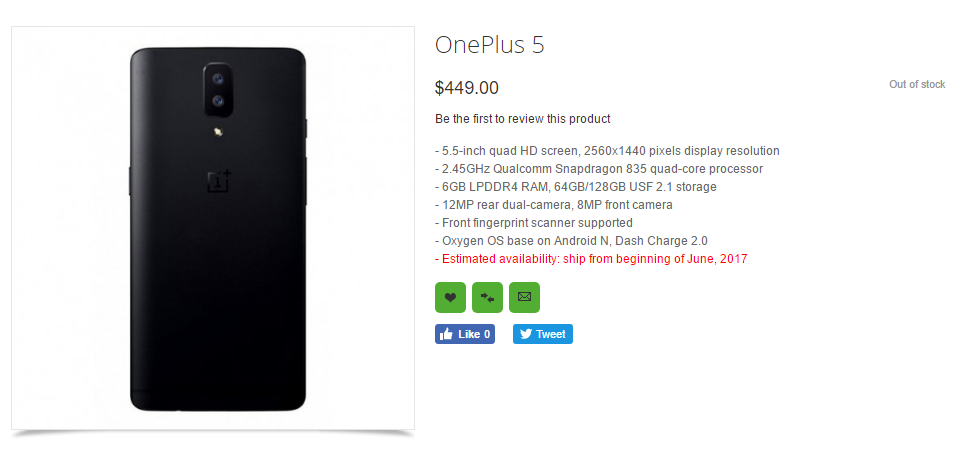 Read More: What Specs Does The OnePlus 5 Need to Have to Be The 2017 Flagship Killer?
The specs list states that the rear camera features dual rear camera of 12-megapixel. It does not clearly mention the camera sensor configuration for both the lenses of the dual camera setup. It has a front-facing camera of 8-megapixel. It includes a 3,580 mAh battery that carries support for Dash Charge 2.0 rapid charging.
Some of the specs mentioned in the OppoMart listing contradicts with the leaked information that surfaced yesterday. A Chinese leakster has revealed that the OnePlus 5 won't be featuring a quad HD screen, but will be arriving with a full HD screen. The report also revealed that the OnePlus 5 would be powered by 3,600 mAh battery, but the OppoMart listing shows the presence of a slightly smaller battery. Even though the photo present on OnePlus 5 listing on OppoMart shows the presence of a vertically designed dual rear camera, new information suggest that the phone would be graced with a horizontally arranged dual rear camera.
The OnePlus 5 is listed with a price tag of $449 on OppoMart. Although the phone is listed as out of stock, the listing states that the phone will arrive at the "beginning of June, 2017."