Xiaomi Redmi Note 4X Special JD.com Edition Starts At Just 799 Yuan ($116)
The Xiaomi Redmi Note 4X has just got a new Jingdong Special Edition which would go on sale as from May 19. The disclosure was made via a set of posters on Xiaomi's official flagship store on Jingdong (JD.com). From what we can gather, the main difference of this version from the original model is the price tag.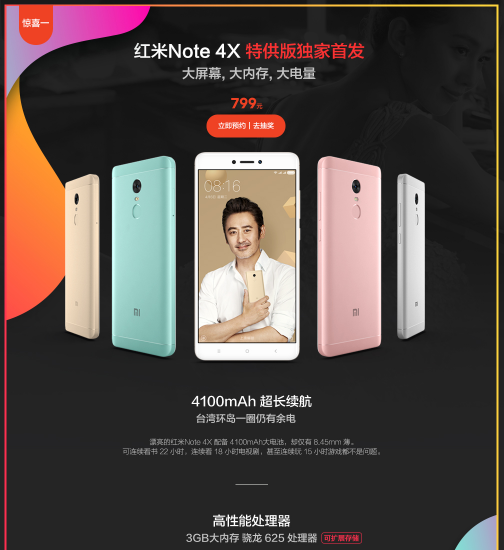 The  Redmi Note 4X Jingdong Special edition starts at 799 Yuan (~$116) which is 200 Yuan cheaper than the original price of the mid-range smartphone which sells for  999 Yuan. There are no indication that the device has got a different specs lineup different from the standard version which includes a Snapdragon 625 chip and 3GB RAM and more. The model would go up on sale as from May 19 while reservations commenced today.
Now, we expected the Redmi Note 4X Jingdong Special Edition to come in Red color. At least, that's what it looked like when we saw the teaser yesterday. But today, there is no mention of the Red color model, so probably this special edition will only differ in the price and storage variants.  Note that, unlike the regular edition, that comes in 3GB + 32GB configuration, this cheaper $116 Redmi Note 4X model will come with 3GB + 16GB memory.
Read Also: Xiaomi Redmi Note 4X Review – It is Awesome!
With the emergence of the Jingdong Special edition, the Xiaomi Redmi Note 4X now has four versions. There is the high-end version which packs a MediaTek Helio X20 chip with 4GB + 64GB memory. There is also the standard version, packing a Snapdragon 625 chip backed by 3GB RAM and 32GB storage. The Redmi Note 4X Hatsune Miku Special edition is also there and now, a Jingdong Special Edition with a cheaper price and lower memory configuration.
(source)