There's Still Plenty Of Time Before MIUI 9 Launch, Not Coming on May 25
Xiaomi has put paid speculations that it will be launching the MIUI 9 on May 25 alongside the Mi Max 2. Speculations were rife that the tech giant will announce the next-gen of its user interface on May 25 and that the Mi Max 2 will even debut running the new UI. But in a Weibo post via the official MIUI account, the company has played down talks of MIUI 9 coming as well on that day.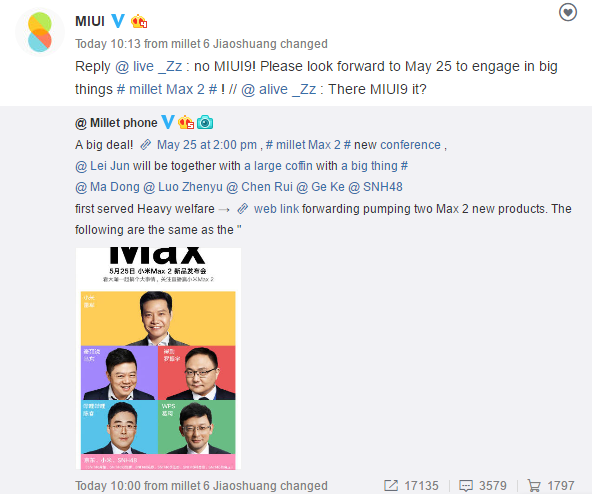 Xiaomi only kickstarted the upcoming version of its intuitive Mi user interface (MIUI 9) around December last year and we are yet to get word that the MIUI 9 is now in beta testing stage, whether closed or open beta. So, it is very much unlikely that the UI will be launched this early. MIUI 9 may likely debut around August this year or there about, perhaps on Xiaomi's upcoming Mi Mix 2 or Mi Note 3 flagship.
Read More: MIUI Product Manager Reveals More MIUI 9 Details
Xiaomi has maintained a watertight secrecy about the UI but we expect that wall of secrecy to crumble soon enough. However, from the little we know so far about the MIUI 9, the next-gen interface would feature split screen and picture-in-picture capabilities. The user interface will also come with smart edge gesture support and will give users te leverage to delete system apps that they don't need on their device. There will always be more innovative features and it sure will be based on Android 7 Nougat.