Recording Videos From the Screen of Apple Devices with Movavi Screen Capture Studio for Mac
by Shine Wong May 24, 2017 6:40 am0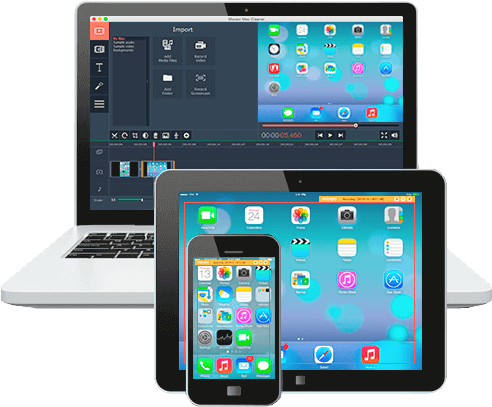 Recording video footage from your screen can be useful in multiple ways, and the same applies to your Apple device. Regardless whether you're using an iPhone or iPad, you may have thought about recording what's on its screen so that you could create video guides, save video calls, or even capture footage of an app or game that you're playing.
While there are admittedly several ways that you can record videos from the screens of Apple devices, none are as easy or versatile as if you opt to use Movavi Screen Capture Studio for Mac. All that you need aside from it is the standard lightning-to-USB cable to connect your Apple device to your Mac, and you'll be able to start recording the video footage that you want.
Easily Set Up the Video Recording
Part of what makes Movavi Screen Capture Studio for Mac a great screen recorder for iOS devices is how easy it is to set it up. In fact as soon as you connect your Apple device to your Mac, it will sense the connection and let you choose whether you want to record its screen in vertical or horizontal orientation.
Aside from that it will also provide you with full control of all the other recording parameters such as the frame rate, audio source, and so on. Adjusting these parameters and setting them up according to your needs couldn't be easier and in general it will just take a few clicks at most.
Edit and Improve the Video
Once you have recorded a video, Movavi Screen Capture Studio for Mac will let you make use of its built-in editor to improve your video and tweak it in various ways. Normally the best starting point is to process your video footage and enhance its quality, fix any issues, trim out unwanted parts, or merge clips together.
Rest assured it won't be difficult to accomplish any of that, and you can start by manually adjusting the color settings or using the automated features to enhance its quality. After that you can look into splitting the video into segments in Movavi Screen Capture Studio for Mac so you can trim out the bits you don't need, or add additional video clips and arrange them by dragging them into place.
Of course if you want your video to really stand out then you should also give it some flair, and Movavi Screen Capture Studio for Mac has no shortage of options on that front. Some of the ways in which you could make your video stand out include by adding background music or voiceovers, applying special effects, inserting stylish animated transitions, adding captions, and so on.
If and when you're satisfied with the video that you've created, you can save it in practically any format under the sun. Additionally Movavi Screen Capture Studio for Mac has hundreds of built-in presets that you can use to automatically optimize your video for various devices and platforms – including mobile devices, online video sharing platforms, and social media.
Suffice to say Movavi Screen Capture Studio for Mac is the one and only screen recorder that you need to record video footage from Apple devices. Its versatility and intuitive nature are unparalleled and will give you all the features you could possibly need to record and produce the kind of video that you want.