Huawei Made A Brief Appearance In the Xiaomi Mi Max 2 Live Video Streaming Today
Xiaomi Mi Max 2 was finally announced earlier today and the phone is sure to provide one of the best battery life that we will see in a phablet. The overall conference went very well, including the performance from the Chinese girl band, SNH48.
However, there was one thing that surprised everyone during the live streaming. Suddenly, in between the streaming, Huawei logo cropped up on the screen and stayed there for a couple of minutes. Now, remember this is Xiaomi's conference and Huawei is a direct competitor to the company. So, seeing Huawei's logo during Xiaomi's live streaming was not only surprising, but it was also bad for the company's reputation. And naturally, after seeing the logo, some viewers started to joke that Huawei is probably one of the sponsors of the event.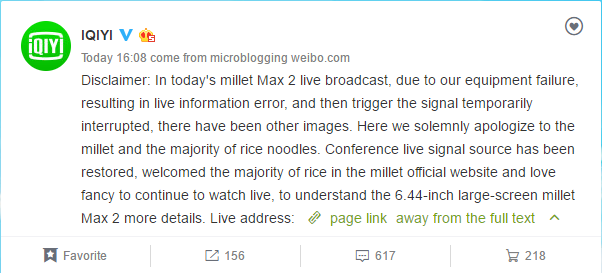 But the actual conference faced no such issues and it went well. So, who was the culprit? Well, iQIYI, is the one to blame here. If you have never heard of this name, iQiyi is China's largest online video site. They were streaming the conference live and there was some kind of equipment failure in between due to which Huawei's logo came up on the screen for around 2 minutes. Note that the issue was resolved in a couple of minutes, but the damage was already done.
RELATED: OPPO & Huawei Came Together For This Clone & We Can Call It The Ugly OPPO P9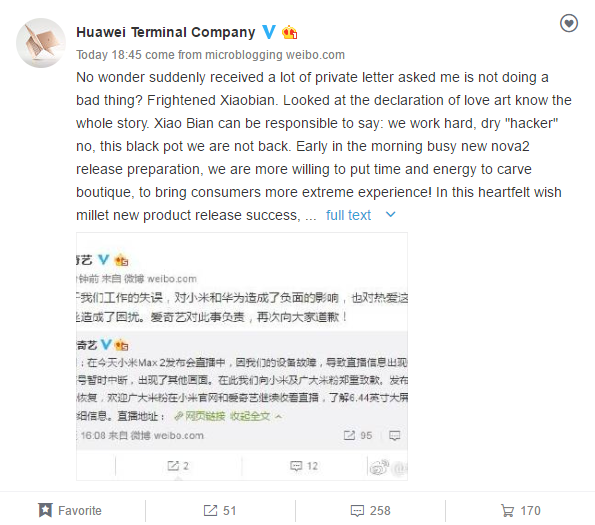 iQiyi did apologize for this technical snag. It looks like users on Weibo had started sending private messages to Huawei asking whether they were responsible for this. Of course, Huawei was quick to defend itself saying they didn't have anything to do with their logo coming up on Mi Max 2 live video. Also, it added that Huawei wishes Xiaomi for the launch success.
Although this wasn't a big issue since the conference went smoothly, online viewers did have something to laugh about in the process.