ARM Announces Cortex A75, A55 and Mali-G72 GPU Along With a New DynamicIQ Architecture
ARM announced two new processor cores and one new GPU core earlier today which should power the upcoming smartphones and other gadgets by the end of 2017 / early 2018. The new Cortex A75 processor core succeeds the powerful Cortex A73 cores that's found inside many high-end chipsets today. The Cortex A55 is one of the most awaited upgrades as it succeeds the super popular Cortex A53 core that's found in millions of smartphones. There's a new GPU announced as well, the brand new Mali-G72 succeeding the G71 core announced last year.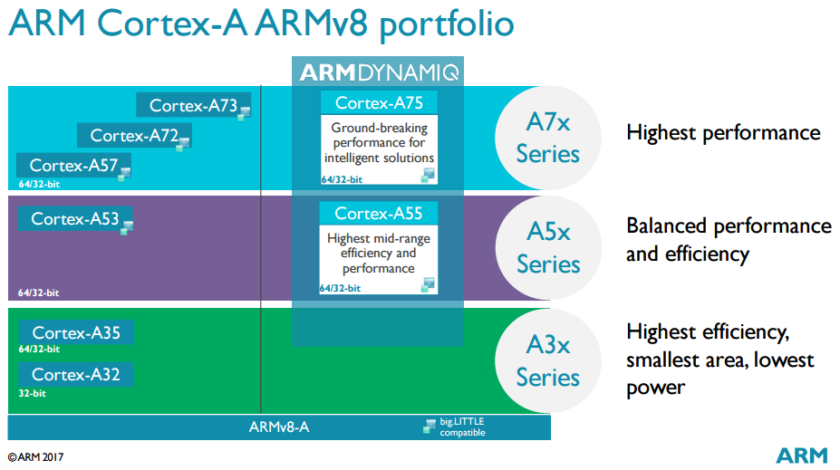 DynamicIQ 
While these are important upgrades, what's even more exciting is the announcement of the new DynamicIQ, which has been in the works for the past few years. If you are wondering why it's important, note that it is the next generation tech in the super popular big.LITTLE architecture that's currently used by most of the smartphone chipsets in the market including Snapdragon and Helio SoCs.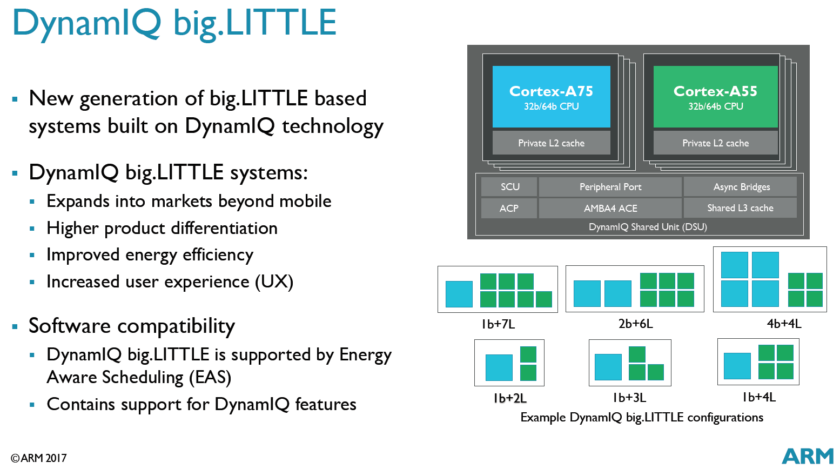 Considering how the big.LITTLE architecture was announced around 5 years back, it was about time that we got an upgrade to the architecture better suited for new generation requirements. One of the major upgrades in DynamicIQ architecture is the ability to mix different CPUs in a cluster. At present, the big.LITTLE architecture supports multiple clusters but each cluster would have just one type of CPU. For example, if there are two clusters, you can have Cortex A72 in one cluster and Cortex A53 in another cluster. But you couldn't have them both together in one single cluster.
That changes with DynamicIQ architecture. This means you can have multiple CPUs in one single cluster and the number of CPUs in a single cluster has been increased to eight from the previous four limit in big.Little. So, you can have an octa-core chipset even with just one cluster. In fact, ARM predicts that a number of mid-range SoCs could go for an octa-core single cluster design with multiple CPU combinations. For example, Cortex A75 and Cortex A55 could be used in 1+7 or 2+ 6 or 4 + 4 or even just 1 + 4 combinations. With the support for multiple CPUs in a cluster, you could have lots of combinations.
ARM further predicts one particular combination to be popular among mid-range SoCs — Cortex A72 and Cortex A55 in 1 + 7 combination. This particular combination improves single thread performance up to 2.41x and multi-thread up to 1.42x as compared to an octa-core Cortex A53 SoC.
Another important feature of DynamicIQ is the presence of a DynamicIQ Shared Unit (DSU) which houses the L3 cache, takes care of power management as well as ACP and Peripheral port interfacing.
Note that as of now, only the newly announced Cortex A75 and Cortex A55 support DynamicIQ.
Cortex A75
This is the next generation core that will power the flagships of late 2017 and 2018. The Cortex A75 builds upon the thermal efficiency of A73 and boosts the performance. So, Cortex A75 offers more than 20 percent improvement in performance in a number of scenarios as compared to last year's Cortex A73. This is achieved while maintaining the same levels of sustained performance. Also, instead of focusing on increasing power efficiency, ARM seems to have focused on keeping the same level of efficiency as the A73 while improving performance.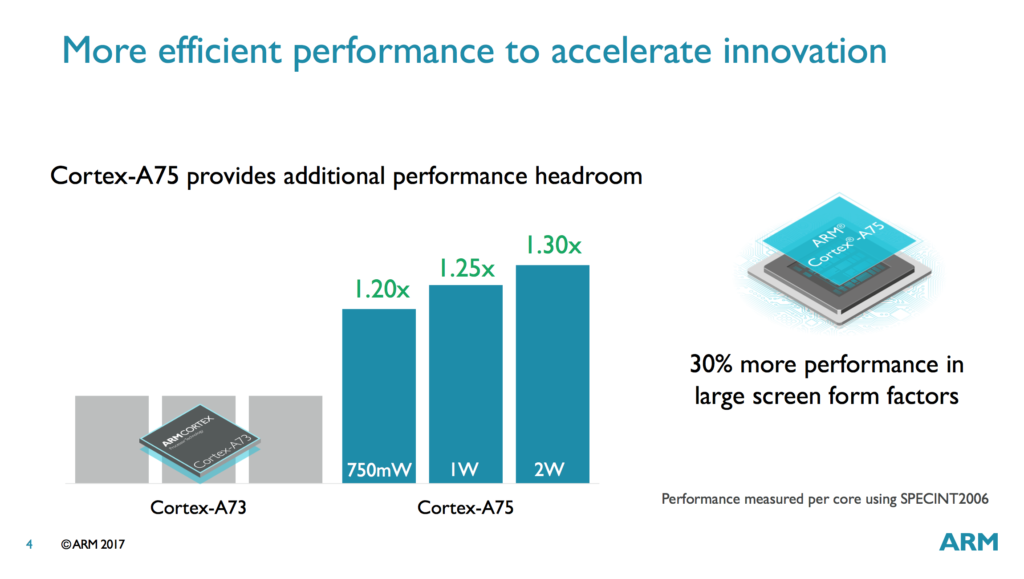 The Cortex A75 core is not just meant for smartphones as there are a number of large screen devices that could use this powerful chip, like Chromebooks and convertibles.
Cortex A55
The Cortex A55 is a much better upgrade, offering up to twice the boost in performance for memory-bound tasks as compared to the old Cortex A53. But for typical CPU usage tasks, the new processor core offers up to 20 improvement in performance, much like the Cortex A75.  Efficiency is also given due importance as the Cortex-A55 comes with 15 percent improvement in power efficiency as compared to its predecessor.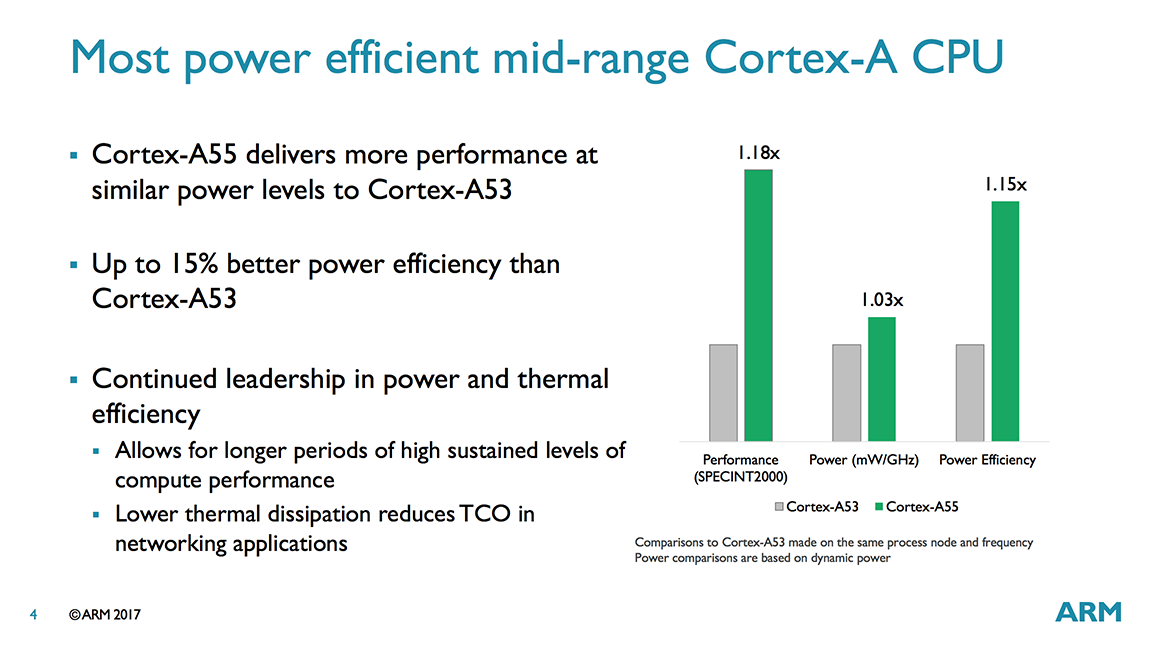 Remember that both, Cortex A55 and Cortex A75 are built on the new ARM v8.2-A architecture and ARM adds that these CPU cores are specifically designed to handle new age requirements like AI and machine learning.
Mali-G72 GPU
The current generation Mali-G71 GPU is found a number of high-end smartphones like the Huawei P10 and even the Samsung Galaxy S8 powered by the Exynos 8895.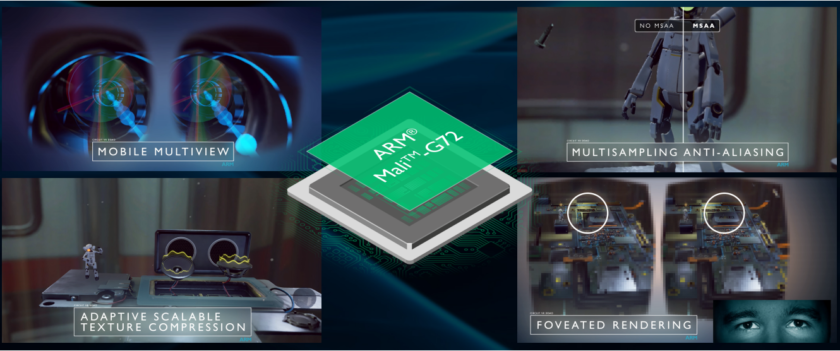 The Mali-G72 improves energy efficiency by up to 25 percent as compared to Mali-G71. ARM has also improved performance density by up to 20 percent. This essentially means that you can put more GPU cores in the same die area. This could translate into more cores being packed inside flagship smartphone GPUs. At present, the Kirin 960 uses Mali-G71 MP8 GPU (eight-cores) and Samsung's Exynos 8895 comes with Mali-G71 MP20 (20 cores). The G71 and G72 GPU support up to 32 cores and we may finally see top-end phones using more GPU cores inside its SoC to boost graphic performance.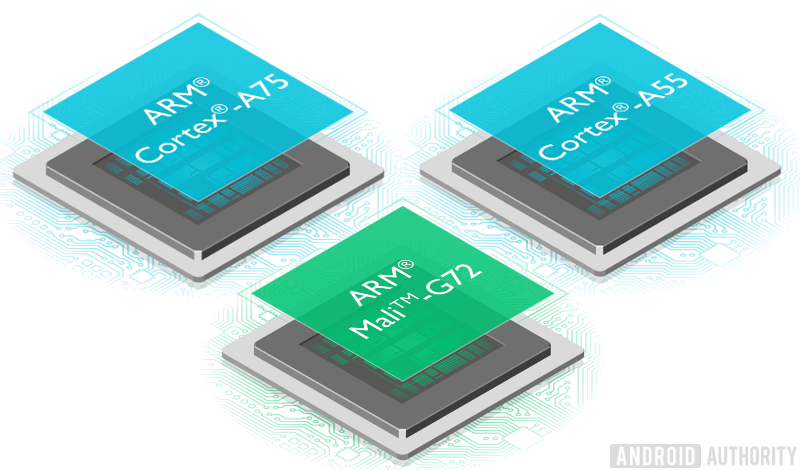 It may take a while for chipmakers to implement the new DynamicIQ architecture, but we can expect new smartphones with Cortex A75 and A55 cores sometime early 2018. Best case scenario would be late 2017, but we'll have to wait and see if new chips can release that early.