Nubia Z17 Will Be Waterproof & Dustproof, Teaser Confirms
In what could likely be its final daily teaser, Nubia has teased the Z17 as coming with a waterproof body. This isn't the first time we would be finding out about the waterproof feature of the Z17 flagship but it is the first (well, maybe second) official confirmation of this feature.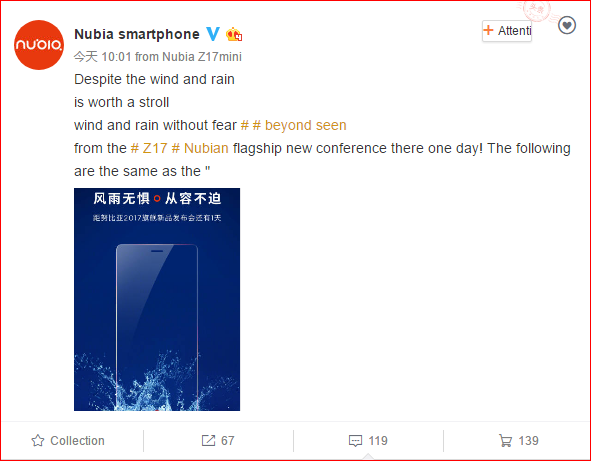 Nubia's co-founder Ni Fei had earlier confirmed the flagship as coming with an IP67 or IP68 waterproof body and this waterproof feature had been demonstrated in a video which leaked a couple of weeks back. The official teaser puts a final seal to the confirmation as it touts that you don't have to be scared to take the phone out even when it is windy or rainy. This not only confirms the waterproof property but also its dustproof capabilities as dust flies around when it is windy.
Read More: Nubia's GM Teases Pressure Sensitive Display for Nubia Z17 and New Version of UI
The Nubia Z17 promises to be an awesome smartphone, no doubt a true flagship, considering the top-end design and features it is coming with. The Z17 is said to come with a borderless display as well as a dual camera setup and onboard is a Snapdragon 835 chip with 6GB of RAM (there is a rumour of an 8GB RAM version). The device has recently been teased as well as coming with an artificial intelligence (AI) technology which it calls NU. Qualcomm's latest Quick Charge 4.0 super fast charging technology is also one of the features expected on the Z17 flagship and also up to 128GB UFS 2.1 flash storage. With all these powerful features, it is left to our imaginations to guess how much the beast would cost.
(source)