In our previous report on ASUS ZenFone AR, it was confirmed by ASUS CEO Jerry Shen that the smartphone would be going on sale in the home market of Taiwan starting from the middle of this month. An official invitation from ASUS confirms that it will be launching on June 14 in Taiwan.
ASUS had announced the ZenFone AR at the Consumer Electronics Show (CES) 2017 in January this year. It has been nearly six months since its launch and the smartphone is yet to reach the hands of the customers. Since the Taiwanese firm has started sending media invites for the launch event of ZenFone AR, finally its arrival seems imminent.
The ASUS ZenFone AR is the first smartphone to support Google Tango AR as well as Google Daydream VR. On its rear, there is a tri-camera system that includes a 23-megapixel Sony IMX318 sensor coupled with motion tracking and depth measuring sensors.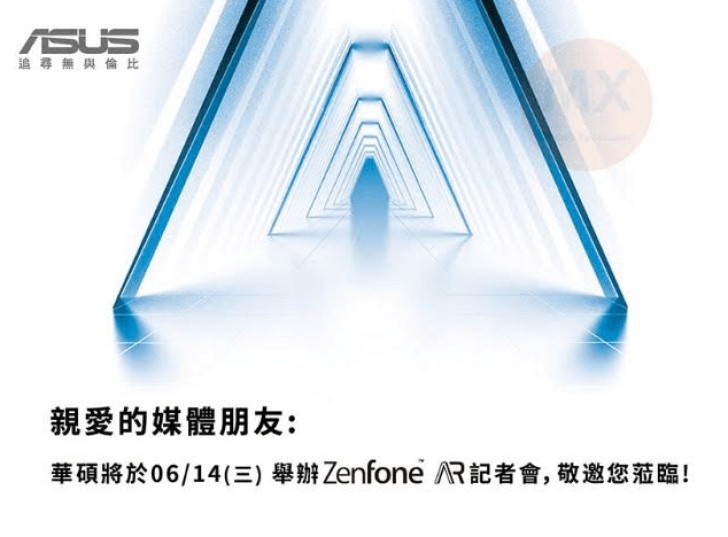 Read More: ASUS ZenPad 3S 8.0, ZenPad 10 Z301MFL and Z301ML Tablets Unveiled at Computex 2017
The triple cameras of the ZenFone AR allow it support 3D mapping.  GAP, a clothing merchandise firm had demonstrated its AR app earlier this year. It showed that a Google Tango enabled phone will enable the user to try their merchandise on a virtual mannequin with the body that is similar to the user. The ZenFone AR is also the world's first smartphone with 8 GB of RAM.
The probable reason behind the delay of the arrival of the ZenFone AR is that not many Tango apps were available for it. Our last month's report states that there are 100 Tango apps available and the company would be soon adding 1,000 Tango apps for the users of ZenFone AR.
As far as the U.S. arrival of the ZenFone AR is concerned, it is expected to be available by next month. Verizon will be the only U.S. carrier that would be selling the ZenFone AR. An unlocked version of ZenFone AR is also expected to be available in the U.S. through third-party retailers.
The ZenFone AR will be coming in two variants, one featuring an 8 GB of RAM and the other one has 6 GB of RAM. It is likely that ASUS would be releasing 6 RAM variant in the U.S.
Again, there is no information on the pricing of the ASUS ZenFone AR. Shen has claimed that the ZenFone AR won't be priced higher than the Samsung Galaxy S8 which indicates that the phone would be priced under $799.
(via)