OnePlus 5 Pricing for 6GB/64GB and 8GB/128GB Models Leaked for India
by Anvinraj Valiyathara Jun 9, 2017 7:07 am1
OnePlus 5 is slated to get unveiled on June 20. A recent report has revealed that the OnePlus 5 would be selling with a pricing of 550 euros in European markets. And now, a leaked information has revealed the pricing of two variants of OnePlus 5.
Around a month ago, True-tech.net had revealed some camera samples that were reportedly shot using OnePlus 5 smartphone. It claimed that the amount of depth seen in some of the photos suggested that the OnePlus 5 features a dual rear camera system. A recent teaser released by OnePlus confirms that OnePlus 5 indeed features a dual camera setup on its backside.
The same source has now produced the leaked pricing of OnePlus 5. It states that the OnePlus 5 would be arriving in two variants. The higher variant will feature 8 GB of RAM + 128 GB of storage and the lower model will be featuring 6 GB of RAM + 64 GB of storage. Well, both the models will be fueled by Snapdragon 835.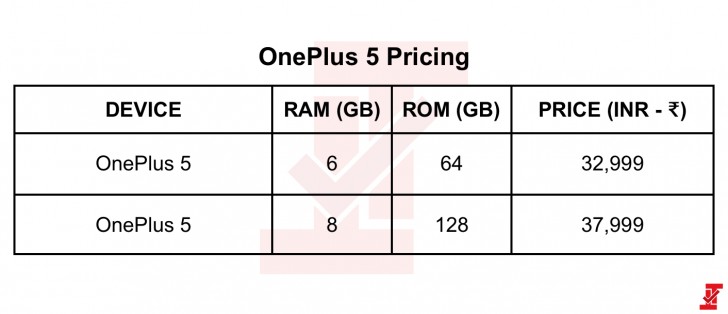 Read More: OnePlus 5 Camera's Night Shot Exposed & It's Impressive
As the above image shows, the 64 GB OnePlus 5 is priced at Rs. 32,999 (~$513) whereas the 128 GB OnePlus 5 has a pricing of Rs. 37,999 (~$591). It cannot be confirmed whether the above image is real as it appears like a snapshot of table created on Excel.
The 64 GB and 128 GB models of OnePlus 3T were introduced at $439 and $479, respectively. There have been rumors that OnePlus 5 would be coming with an expensive price tag because of costlier components like Snapdragon 835, 8 GB RAM and dual rear camera module. Multiple tipsters have speculated that it may cost more than $500. This is also supported by a recent report that speculates that OnePlus 5 would be costing 550 euros for the European regions. Moreover, the source of this report has correctly predicted the dual camera feature for OnePlus 5.
Even though OnePlus 5 is seen sporting 8 GB RAM, there is a possibility that the company may not release this model in the western markets. In the U.S., the OnePlus 3T is the only smartphone sporting 6 GB of RAM which indicates that the company may release only 6 GB RAM model of OnePlus 5 in the U.S. and not the 8 GB RAM variant.
(source)