Latest Google Pixel 2 Concept Renders Are Inspired By LG G6
The renders of  Google's next-generation Pixel 2 leaked online over the weekend on Reddit, bringing to the forefront discussions about the Pixel 2 and the larger Pixel XL 2. The renders were purely a fan-generated concept design of the Google 2017 flagship. According to the fan, the render is just his expression of what he'd like to see on the Pixel 2. The design is also revealed to take cues from the Essential Phone and especially the LG G6. The resemblance with the G6 has nothing to do with earlier rumours that the Pixel XL 2 codenamed Taimen will be designed by LG but the G6 just happens to be the fan's favourite 2017 Android phone.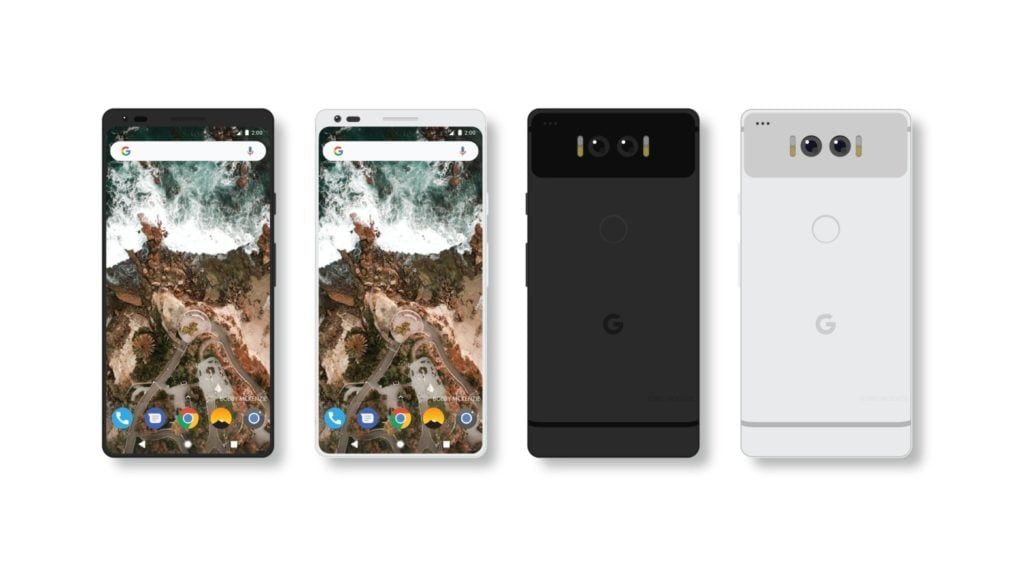 The set of renders did indeed take a number of design cues from the LG's latest flagship, including the Full Vision display panel with an unconventional 18:9 aspect ratio and rounded screen corners, as well as a nearly bezel-less front. The renders also pack horizontally aligned dual cameras at the rear and an unusual dual LED dual-tone flash design with each of the flash sitting on the left and right side of the camera. There is also a rear-mounted fingerprint sensor. Apart from the camera's placement and a few other details, the render looks similar to the purported real render of the Pixel 2 which surfaced weeks back.
Read More: Google Pixel 2, Pixel XL 2 Rumors: Testing Begins on Actual Handset; Releasing Early?
Google Pixel 2 is still pretty much a mystery at this time but one thing is known for sure, this device will be bigger and a lot better than the Pixel. There would be some improvements in its design, water-resistance, iris eye scanner and it will most likely come with a bigger battery. The Pixel and Pixel XL did not feature dual cameras but Google may just go for dual lens rear cameras on the Pixel 2 in line with the current trend for smartphone manufacturers and that is captured on the concept teaser. In addition, the Pixel 2 is also teased to feature a full-screen design which would make it look more premium. There is also likely going to be an OLED display just like the Pixel had. The Google Pixel 2 is expected to run on Qualcomm's latest Snapdragon 835 processor, backed by 6GB RAM. At this time, it is best we keep our fingers crossed while we await the unveiling of this amazing device.
(source)