Xiaomi Reveals List of Devices Getting Android Nougat Update
Xiaomi recently released new updates for MIUI. In addition to bringing new features to the phones, some devices have also gotten updated to a new Android version. Xiaomi says it plans to update a total of 14 devices to Android Nougat and has released a list containing eligible devices.
The Mi Note Pro, Mi 5, Mi 5s, Mi 5s Plus, Redmi 4X and Redmi Note 4X are among the fourteen devices said to have been updated or will be updated to Android Nougat.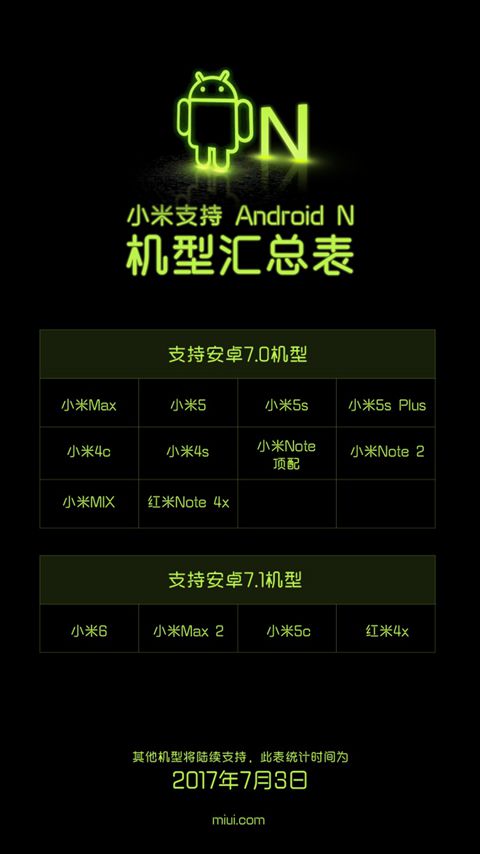 The list also mentions the devices that will get an upgrade to Android 7.1 or 7.1.1. Devices on this list are the Mi 6, Mi Max 2, Mi 5C and Redmi 4X.
Xiaomi is known to provide regular updates for MIUI but slow at upgrading them to new Android OS versions. If you are planning to get a Xiaomi phone, this list will help you decide which device to purchase especially if you care for software updates.
RELATED: Xiaomi Riva Appears on Geekbench, Runs Android 7.1.2
Some devices are not on the list such as the original Redmi Note 4 and it is interesting to see that the Mi Note makes it to the list. If your device is not on the list, don't lose hope yet. You may at least get MIUI 9 and have access to some features from Android 7.0.
All future Xiaomi devices are expected to come with Android 7.0 out of the box until Google releases Android 8.0.
(Source)