First Look At Exynos VR III, Samsung's Standalone Gear VR Headset
by Habeeb Onawole Jul 3, 2017 6:52 pm0
Samsung's Gear VR headset is one of the most popular VR headsets in the world but it only works with a few Samsung smartphones. Samsung announced recently that it was working on a new Gear VR that won't need a phone to function and we just might have our first look at the device.
The image is from Visual Camp, a company working on the eye-tracking technology for the device. The first thing you will notice is the name. This is not the Gear VR but the Exynos VR III. A Samsung tablet placed beside the headset shows the specs of the device and also that of a previous version, the Exynos VR II.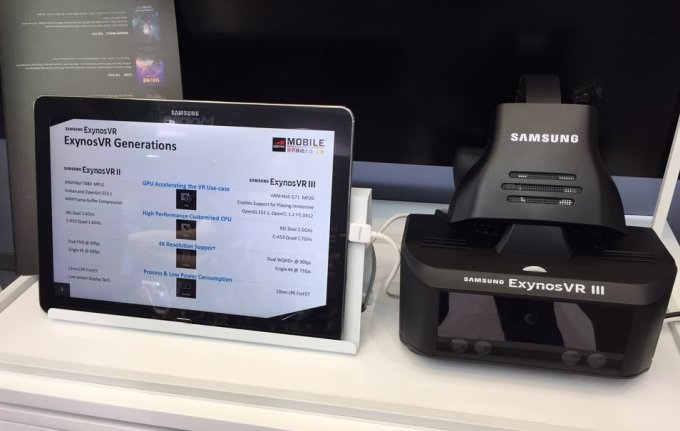 Exynos VR III Specs
The Exynos VR III is powered by a 10nm hexa-core Exynos chip. The chip is made up of two Samsung M2 cores clocked at 2.5GHz and four ARM Cortex-A53 cores clocked at 1.7GHz. There is a Mali G71 MP20 GPU. The display configuration is listed as two WQHD+ screens with a 90fps refresh rate and single 4K display with a 75fps refresh rate.
Exynos VR II Specs
The Exynos VR II on the other hand is powered by a 14nm hexa-core processor. The processor is made up of a Samsung M1 dual-core chip clocked at 2.4GHz and four Cortex-A53 cores clocked at 1.6GHz.
This also has two display configurations. One has two FHD screens with a 90fps refresh rate and the other is a single 4K screen at 60fps. The GPU is an ARM Mali T880 MP12.
The Exynos VR III will also support hand tracking and also voice and and facial expression recognition.
READ MORE: Master Lu Releases World's First Mobile VR Benchmarking Tool
Samsung isn't the only one working on a standalone VR headset. Google has plans to announce standalone VR headsets later this year and HTC released the HTC Link which has Six degrees of freedom tracking and doesn't require you to slide in your phone but connects to it via a cable. The Link only works with the HTC U11 though and is a Japan exclusive.
(Source)