OPPO Advert Reveals Upcoming OPPO A77 Model Equipped With Mid-Range Specs
According to the source, OPPO will be releasing a mid-ranger smartphone named OPPO A77 in Taiwan. This is not to be mistaken for OPPO's Mainland-China A77 model; the design being the major difference between the two.
From the leaked image, the Taiwanese model resembles more closely the OPPO A57 with improved specs. The Chinese A77 looks more like the OPPO R11, most especially the U-style antenna and the distinctive single rear-firing camera sensor.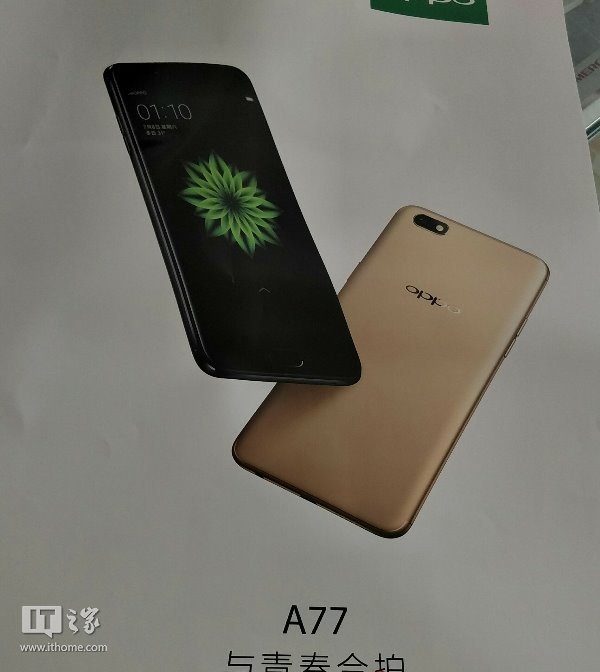 A rough translation of the text on the leaked image says 'For Youth Together', hinting at the phone targeting a young audience.
In terms of specification, the OPPO A77 will be powered by a MediaTek MT6750T eight-core 64-bit processor, clocked up to 1.5 GHz and paired with 4GB RAM. The device will come with a 5.5-inch FHD display and will have 64GB, of built-in storage.
For photography and video, the A77 will come with a 13-megapixel rear camera and a 16-megapixel front-facing selfie shooter. Other components include a 3200mAh battery and a standby dual-SIM setup.
According to the source, the OPPO A77 (Taiwan Model), will be released soon.
READ MORE: OnePlus 5 in India Is Made in the Country by OPPO
What are you thoughts about OPPO A77 (Taiwan Variant)? Should they have named the device differently to avoid confusion? Share you thoughts down below.
(Source)