Sketchy Xiaomi Redmi 5 Leak Attempts To Reveal Full Specs, Design and Pricing
Amid the recent leaks of Xiaomi's Redmi 5, we were able to get some unconfirmed data covering the specifications of the Redmi 5 and the possible design of the device.
The design according to the source's leaked advert, show that the fingerprint scanner will be positioned at the rear of the device with capacitive buttons located at the bottom of the device, the menu, home and back button, respectively, (on the front of the device). This stick to Redmi series' current button and sensor layout, much similar to the Redmi 4.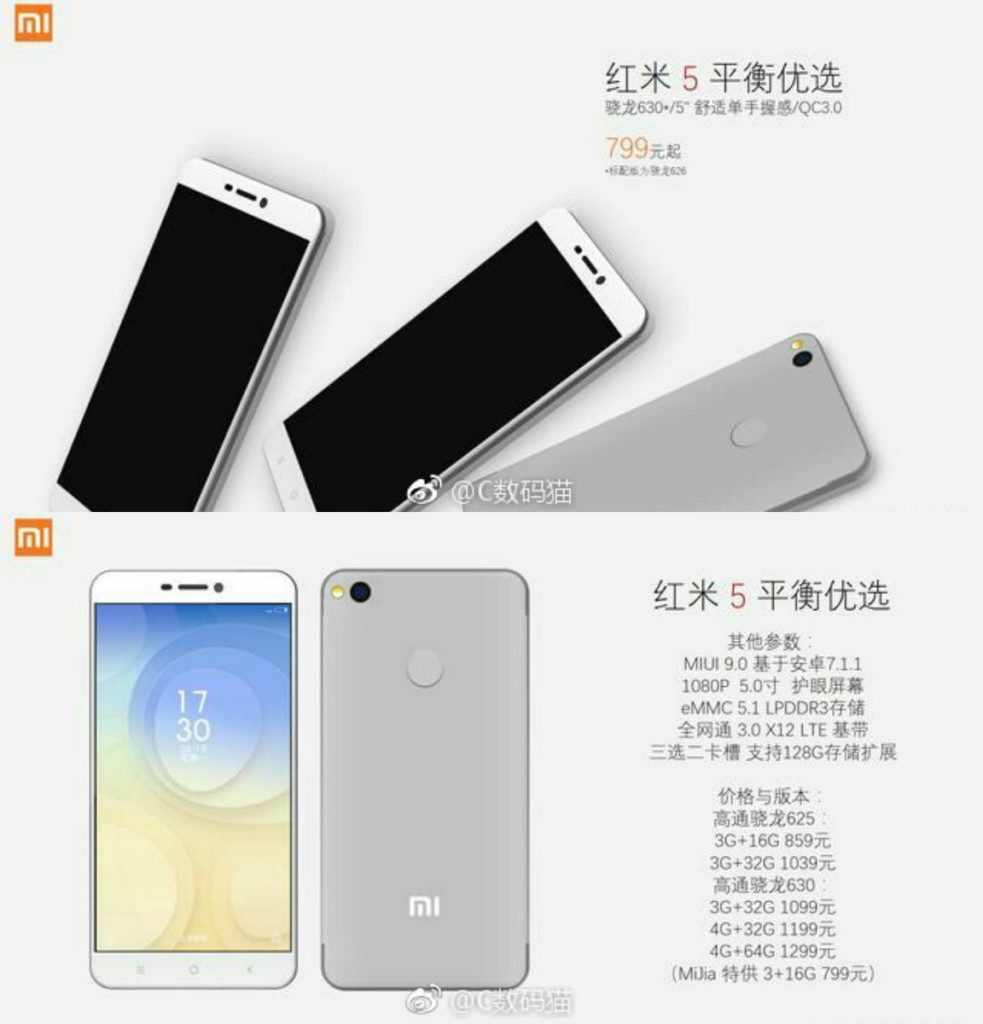 Other similar designs include a single firing camera at the back of the device and a front-facing selfie shooter. The device will also come in a metal frame, a unibody design with rounded corners.
The design remains unconfirmed just like the specifications mentioned below.
The specifications appear to be very promising, the Redmi 5 will be powered by mid-level processors such as a Snapdragon 625 or a Snapdragon 630, a jump from the entry-level Snapdragon 435 in the predecessor's hood.
Furthermore, the source states that the device will be run with a relatively 3,680 mAh, noting that this is a significantly small battery compared to Redmi 4's 4,100 mAh comparison. A reassuring feature is the Redmi 5 will support Quick Charge 3.0, quickly replenishing low battery levels. Another low-demanding power feature is the Redmi 5-inch display with an HD display (1280 x 720).
The device will be paired with either 3GB or 4GB RAM with LPDDR3 technology, we're also expecting the devices to come in 16GB, 32GB and 64GB storage, running at "eMMC 5.1" speeds.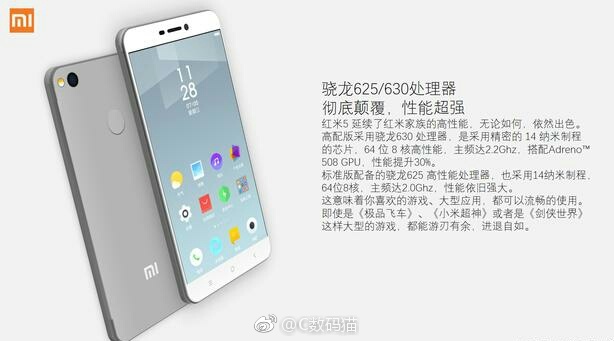 The pricing has also been unveiled by the source, starting at ¥859 (~$125) for the 16GB + 3GB and the 32GB + 3GB for ¥1,039 (~$152), both these models will be powered by a Snapdragon 625. The higher-end models will allegedly start at ¥1,299 (~$191) for the 64GB + 4GB variant powered by a Snapdragon 630.
RELATED: Xiaomi's Mysterious Budget Phone Appears in Leaked Photos; Could it be Xiaomi Redmi 5?
Could these leaks be the final confirmed details of Xiaomi's Redmi 5? We are unsure, but let's see.