Analyst Reveals Why There Are Still Few SD835 Phones In The Market Right Now
Qualcomm announced its latest Snapdragon 835 chipset earlier this year and the flagship processor made its debut on the Samsung Galaxy S8 in April and the Xiaomi Mi 6, Nubia Z17, OnePlus 5 and the Sony Xperia XZ Premium. The SD 835 chip is built on the 10nm process and is said to be 27% better in performance when compared to the Snapdragon 820 chip. Also, it uses about 40% lesser power, so the new processor is better with performance and battery usage. Despite these and many more features, the SD 835 chip is yet to be featured in so many flagship models even as the smartphone releases for the year is reaching its peak.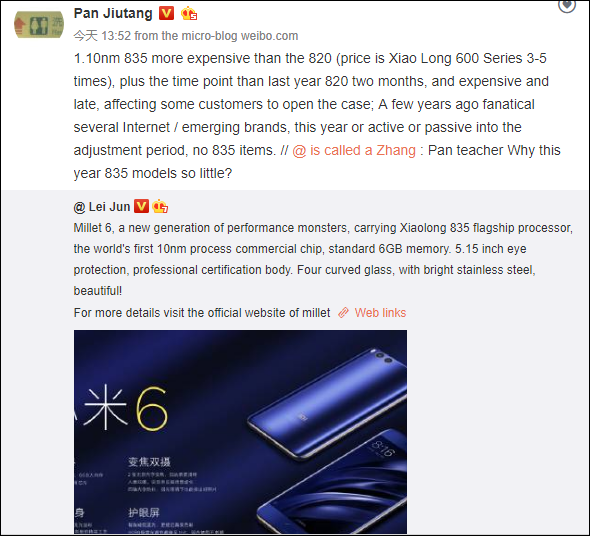 Industry analyst, Pan Jiutang has come out to reveal why the flagship chip is yet to be used on a large number of smartphones. According to the analyst, the 10nm processor is more expensive than the SD 820 and is even 3-5 times the price of the Snapdragon 600 series. From the look of things, the lack of a flurry of SD 835 smartphones isn't due to the slow production process as was earlier thought but the cost of the processor.
Read Also: Qualcomm Snapdragon 450 Chipset is Official; Brings 25% CPU, GPU Performance, Better Battery Life
By this time last year, the Snapdragon 820 processor has seen a good number of patrons but presently, among the Chinese OEMs only the Xiaomi Mi 6, Nubia Z17 and OnePlus 5 feature the processor. The Snapdragon 835 was produced by Samsung's foundry and the cost of the Galaxy S8 wouldn't pose any problem for Samsung to make its profit. But its profitability for Chinese manufacturers who don't have the leverage of fixing a very high price tag on their models, using this processor may pose a problem in terms of profits, in the long run. Except Qualcomm drops the cost of the chip, which we don't know presently, the processor might end up not being used on a lot of devices before the release of the next-gen SD 845 next year.
(source)