Google Pixel 2 Receives FCC Approval; Reveals Features Like Active Edge, Snapdragon 835, Android 8.0
by Anvinraj Valiyathara Aug 16, 2017 7:11 am1
The Google Pixel 2 has received certification from Federal Communications Commission (FCC) in the U.S. The rumor mill has been claiming that even though the Google Pixel 2 will be assembled by HTC, it will be sold as a Google product. The FCC documents contain various references for HTC. The FCC filing has revealed some key features of the Google Pixel 2 flagship smartphone.
A previous report on upcoming Google Pixel 2 and Pixel XL 2 phones had revealed that they will come equipped with pressure-sensitive frame. This feature is already available as Edge Sense on HTC U11. The Edge Sense feature allows users to launch apps and perform certain functions by squeezing the pressure-sensitive frame of the smartphone. The FCC filing has revealed that the Google Pixel 2 will be also enabled with this feature and it will be called Active Edge.
Some screenshots of the Google Pixel 2 that have surfaced through FCC filing has revealed that it would be arriving preinstalled with Android 8.0.1 Google is yet to officially debut the Android 8.0 operating system. Speculations are rife that Aug. 21 will be the day when Google will be declaring the official name of Android 8.0. The Google Pixel 2 duo will be the first smartphones to come preloaded with Android 8.0. FCC will be making use of Electronic version of the labeling system for the Pixel 2.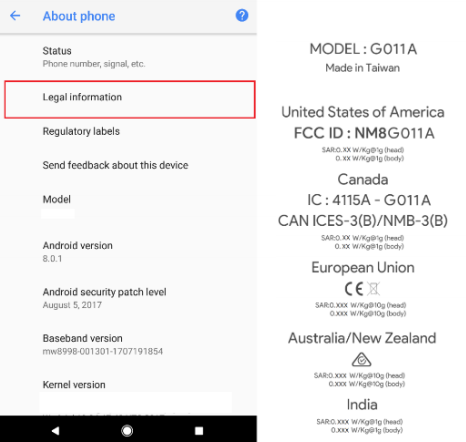 Read More: Google Pixel XL 2017 Renders in Very Silver, Really Blue Surface to Reveal What to Expect for Pixel XL 2's Design
In the above screenshot, the description for "Languages, input & gestures" in System settings is "Active Edge on, squeeze for your assistant." This shows that Active Edge can be used on Google Pixel 2 to activate Google Assistant by squeezing the frame of the phone. Also, the navigation buttons appear to be exclusively designed for the Google Pixel 2 and Pixel XL 2 smartphones.
It appears that the Google Pixel 2 duo may come with an internal storage of 64 GB instead of 32 GB available on the original Pixel phones. This can be understood through the above snapshot that shows that 21 percent space on the internal storage has been used and 50.66 GB is remaining which indicates that the Pixel 2 has 64 GB of internal storage.
The mentioning of mw8998 under Baseband version indicates that the Snapdragon 835 chipset will be powering the Google Pixel 2. The FCC documents contains several references to GO11A model number. The same model number was also spotted when a new HTC handset had appeared at Wi-Fi Alliance certification.