It's Official! Xiaomi Mi Note 3 Coming Along With Mi Mix 2: Larger Version Of Mi 6
Xiaomi's President has sensationally revealed via a Weibo post that the tech giant will be launching the flagship Mi Note 3 soon. Lin Bin didn't specify if the device will be announced on September 11 but from his previous Weibo post, it certainly will likely launch with the Mix 2. The Xiaomi president had disclosed in an earlier Weibo post that Xiaomi will also announce another product with the Mi Mix 2 billed to go official on September 11.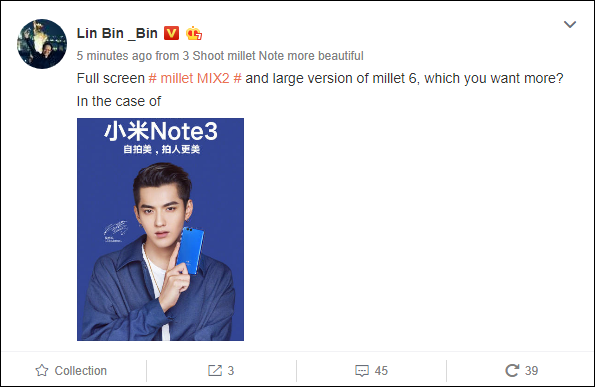 The Xiaomi Mi Note 3 has featured severally in leaks which point at its likely design as well as its likely specs but Lin Bin also revealed a surprise detail of the Note 3. The CEO in his post hinted that the Mi Note 3 would be a larger version of the flagship Mi 6. The teaser poster he shared along with post also passes across the same message. What this basically suggests is that the Mi Note 3 will have a curved display as well as a glass body like the Mi 6 but will come with a larger size. The Mi 6 features a 5.15-inch display and the Note 3 may come in at 5.7 inches just like the Mi Note 2. The flagship comes with a premium design which is curved on all sides and is powered by a Snapdragon 835 processor.We also expect entirely the same specifications as the Mi 6, perhaps with out or two modifications in its specs.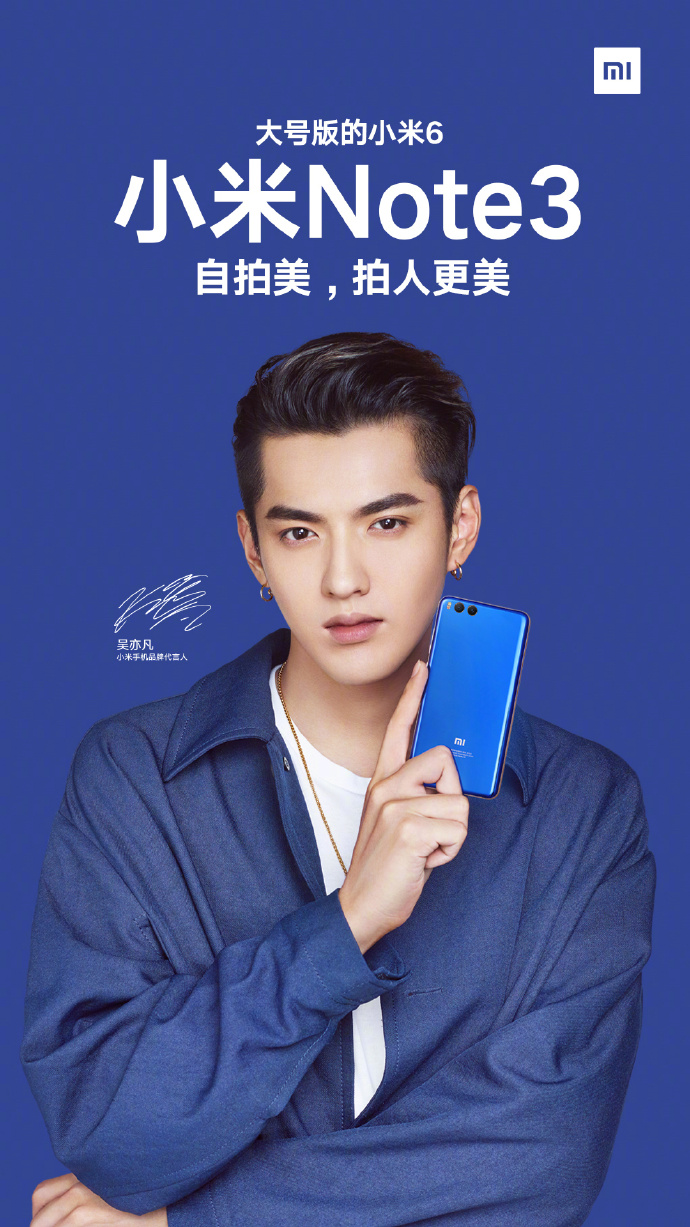 Read Also: Philippe Starck Goes Full 007 For The New Xiaomi Mi Mix 2 Teaser
In addition, the poster also reveals that the Xiaomi Mi Note 3 will be endorsed by Wu Yifan who was also the company's brand ambassador for the Mi 5X launched recently. By the way, Lei Jun also has confirmed that the Mi Note 3 will be launched alongside the Mi Mix 2. So, which do you prefer, a full-screen Mi Mix 2 or a bigger Mi 6?
(source)