Qualcomm Releases List of Innovative Features that It Brought First on Android Devices
by Anvinraj Valiyathara Sep 12, 2017 7:43 am1
Qualcomm has been in the news since quite sometime because of its ongoing patent violation issues with Apple. However, the company has contributed a lot in various technologies that are used by the consumers on Android smartphones. The U.S. based chip manufacturer has released a press statement to highlight some of the innovations that it has brought first on Android operating system.
The following is the list of innovative features that Qualcomm has introduced on Android devices. According to Phone Arena, the previously released list contained some errors as It had included HTC One M8 and HTC One M7 as the smartphones featuring dual camera technology. However, the list has been revised to remove HTC One M7 from the dual camera technology. It now mentions three smartphones like HTC One M8, Samsung Galaxy S8 and Galaxy Note 8 as dual camera technology enabled smartphones. It is strange to see Galaxy S8 here as it not features a single rear camera.
Nevertheless, through its licensing program, the company aims to make its new technologies available to startups and globally popular companies like Samsung, LG, HTC, Motorola and so on. It has worked with many new companies such as OPPO and Vivo in China. These new entrant firms have now become top five smartphone companies not only in China but also in the world.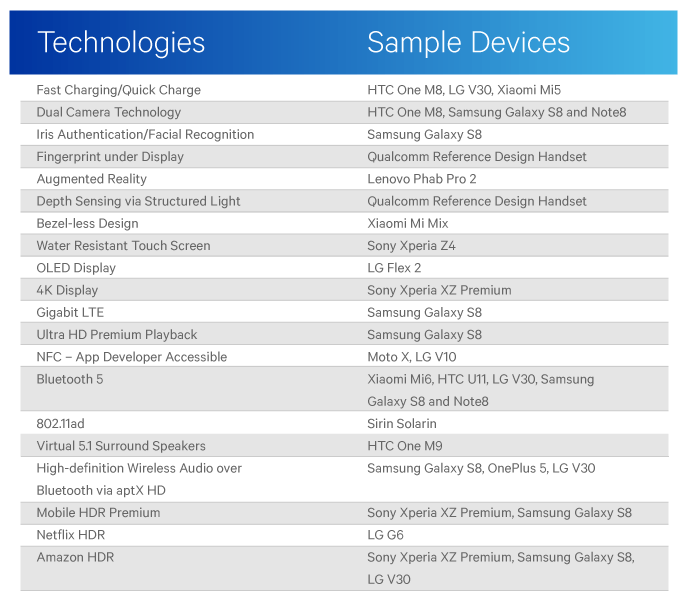 Read More:Apple vs Qualcomm: U.S Court Refuses To Stop Apple's Multiple Lawsuits
One of the latest innovations from Qualcomm is making Gigabit LTE connectivity possible on Android smartphones. Compared to the first Android phone, the Gigabit LTE enabled Android phone can download content 135 times faster over mobile network. The chip maker says that the Galaxy S8 is the first device enabled with Gigabit LTE connectivity. The Galaxy S8 also gets credit for the first Android device with iris authentication and facial recognition, Ultra HD video playback, Bluetooth 5.0, HD wireless audio over Bluetooth via aptX HD, mobile HDR Premium and Amazon HDR.
Qualcomm's fast charging feature also known as Quick Charge is available on Snapdragon mobile chipset powered smartphones. However, it was first implemented on the HTC One M8, LG V30 and Xiaomi Mi 5. The first augmented reality phone is Lenovo Phab Pro 2.
The U.S based firm credits the Sony Xperia XZ Premium as the first 4K display phone. It has pioneered in making the Xperia Z4 as the first smartphone with water resistant touchscreen and Xiaomi Mi MIX as the first bezel-less phone. Qualcomm has also tested under-display fingerprint scanner and depth sensing through structured light on the company's reference design handset.
(source)