Report Says Galaxy S7 Most Used Phone and Snapdragon 410 Most Used Chipset for Q2 2017
by Habeeb Onawole Sep 17, 2017 12:41 pm0
A new report by web traffic analysts, Device Atlas, has revealed its Mobile Web Intelligence Report for Q2 2017. The report covers a wide range of categories such as the most used chipset, most used GPU, and standard amount of RAM in devices to name a few.
The data is gotten from traffic to thousands of site and is limited to the second quarter of this year. There are some results that would leave you in surprise and others that are expected.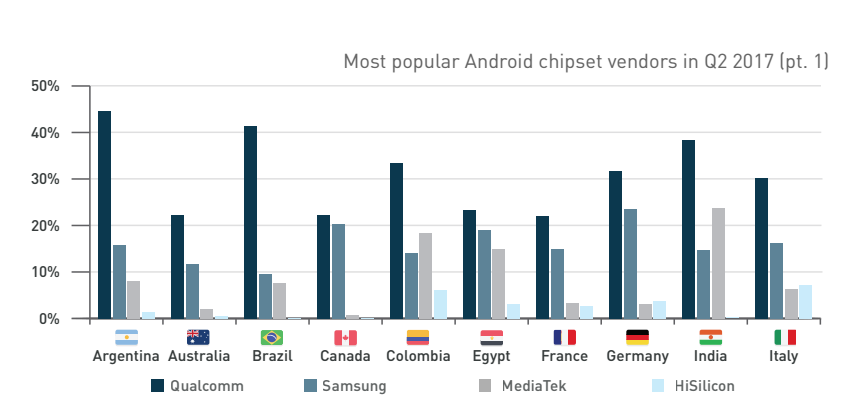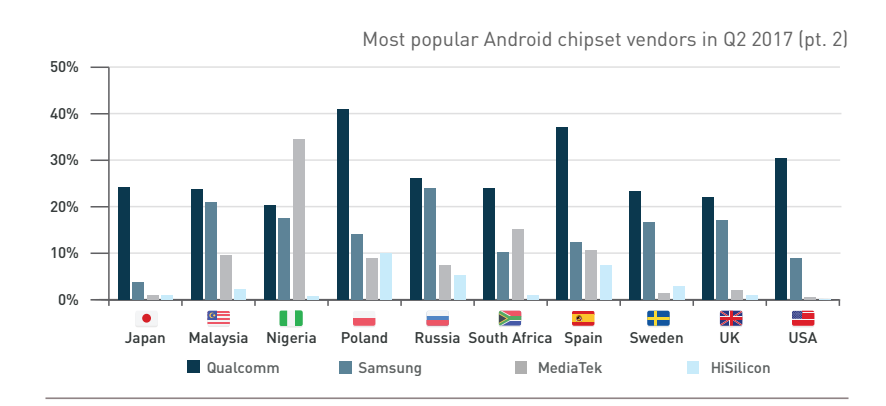 For the most used chipsets, Device Atlas says it is Qualcomm chips. It then adds that the Snapdragon 410 is the chip found in most Android phones. This is the chip in phones like the Lenovo K3, Honor 4 Play, and Galaxy A3.
The chip is indeed the most used globally, but it isn't the top chip in places like the US or the UK. Apple chips reign supreme there with Snapdragon 9(SDM 820) coming in at the 4th position in the US. The data also reveals Nigeria is the only country with more MediaTek powered smartphones than Qualcomm.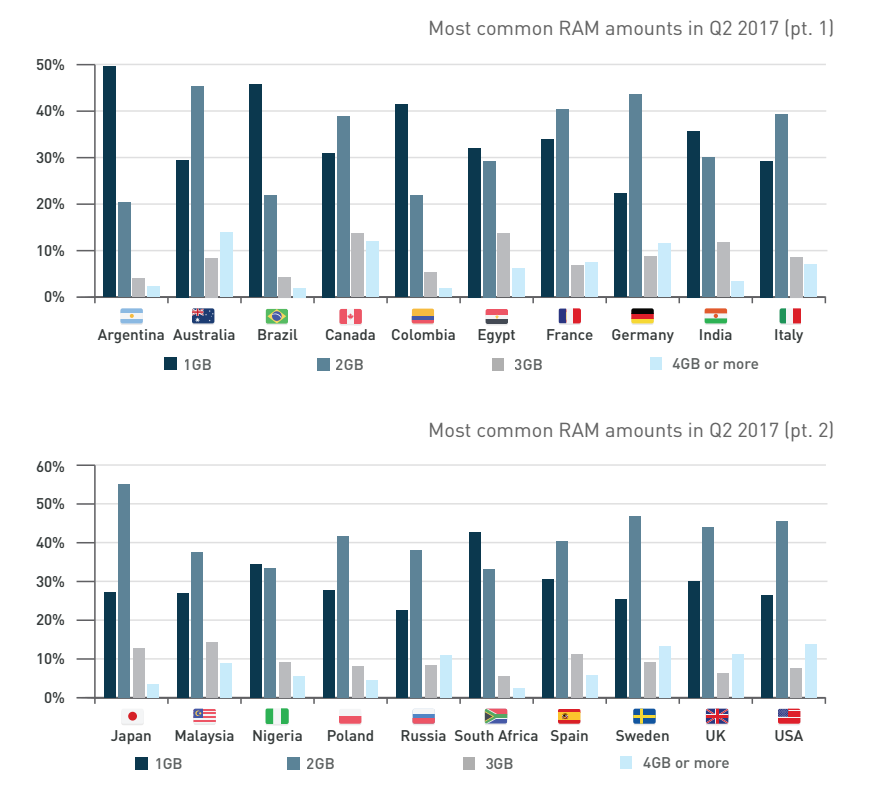 Report on RAM says 512MB, 1GB and 2GB RAM devices are still very popular thanks to Apple devices which generally have less RAM. Some older Samsung phones also increased the number. Colombia, Nigeria, Russia, Brazil,and Egypt are the countries with the highest number of 500MB phones. 4GB RAM and above devices are common in Australia, Sweden and the US.
For GPU, the Adreno is the most common but in places like the US and the UK where iPhones are the most common devices, PowerVR by Imagination Technologies takes the lead.
Device Atlas says Android still has the largest market share, topping the list in 60 major markets. Although Android phones have increased in popularity in some markets, it has dropped over the last two quarters in countries like the USA.
READ MORE: Qualcomm Releases List of Innovative Features that It Brought First on Android Devices
The report also mentions the Samsung Galaxy S7 as the most widely used smartphone in the world and the iPhone 6 as the most used iPhone model.
There are a lot more data results in the full report. If you are interested, you can download it here.
(Via)