Xiaomi Chiron Appears on GFXBench With Flagship Specs, Is This The Mi Note 3 Pro?
by Habeeb Onawole Sep 17, 2017 6:40 pm3
A month ago, a device codenamed Chiron was seen on the Beijing Subway database. It was said to be the Xiaomi Mi MIX 2. The Mi MIX 2 was unveiled last week and the Xiaomi Chiron has surfaced again, this time on GFXBench. The specs are different which means this is another device entirely and not the Mi MIX 2.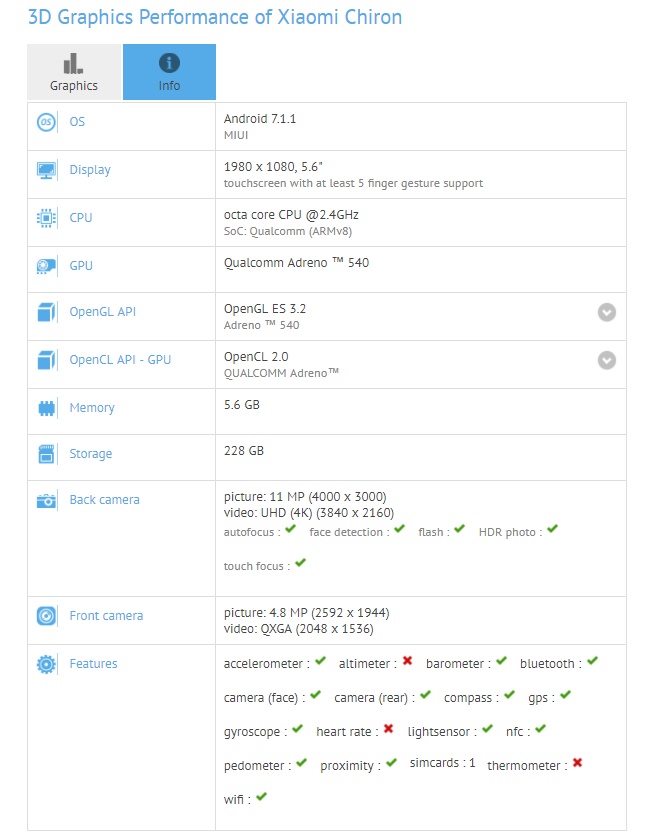 The benchmarking site reveals the Xiaomi Chiron has a 5.6-inch full HD screen. It is powered by an octa-core processor clocked at 2.4GHz. The Adreno 540 GPU gives it away as the Snapdragon 835.
The Xiaomi Chiron packs 6GB of RAM and 256GB of storage. It has a 12MP rear camera that can record 4K videos and a 5MP front facing camera. Just has reported the first time it appeared, the Chiron does have NFC support.
Now let's analyse the specs. If Xiaomi hadn't released a 6GB RAM + 256GB variant of the Mi MIX 2, we could assume this was it. However, the fact that the screen is even smaller at 5.6-inches completely negates that argument.
My guess is that this is the Mi Note 3 Pro. The 1st generation Mi Note came in two variants – a Snapdragon 801 variant and a Snapdragon 810 model that carried the Pro suffix.
Although the Mi Note 2 ditched the tradition, it doesn't mean Xiaomi can't resume it now. So I presume the plan was to first launch the Mi Note 3 with a Snapdragon 660 processor and then later release the Snapdragon 835-powered Chiron as the Mi Note 3 Pro. That way, those who want a bigger Mi 6 can purchase it without sacrificing the Snapdragon 835 processor like the Mi Note 3 does.
READ MORE: Xiaomi Mi A1 Global Rollout Begins With India
This is also the reasonable thing to do since there is no Snapdragon 836. And if this not a Mi Note 3 Pro, then it may as well just launch as the Mi 6 Plus.
(Source)