Xiaomi Mi Mix 2 White Ceramic Version Looks Beautiful (Images)
When Xiaomi officially unveiled the Mi Mix 2 on September 11, it did announce that there was going to be a special edition with a full ceramic body that is available in white and black. The all-ceramic body will not feature a metal frame like the regular versions and it is expected to have 8GB of RAM and 128GB of storage. A Xiaomi official has now afforded us an opportunity to have a peek at the Mi Mix 2 White Ceramic Special Edition by sharing a couple of photos of the special version via his Weibo handle. Cui Baoqiu who is the head of Xiaomi's Cloud platform specifically indicated that the images were those of the white all-ceramic exclusive edition and it seems he was already using the device!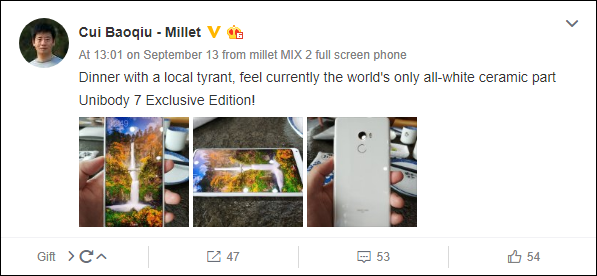 Taking a look at the device, what readily comes to mind is the beauty which it radiates. This isn't meant to be an exaggeration but the white edition is a clear reflection of the beautiful design the Mi Mix 2 comes with. We can't call this a bezel-less model, as the white color brings out clearly, the bezels on all sides but the fact remains that these are very tiny bezels except at the bottom edge where the selfie camera is situated. There is a black border on the edge of the display which could have hardly been noticed on the black variant but it is there.
The back of the white ceramic edition is no less beautiful, sporting a sleek mirror finish with curves reminiscent of the Mix 2 but the weight may vary since there is no metal fuselage on this version. The rear camera, LED flash and fingerprint sensor's location wasn't change but the inscription "Mix Built By Xiaomi" is conspicuously missing. This could either be because we are looking at a prototype here or Xiaomi won't be including that in the body.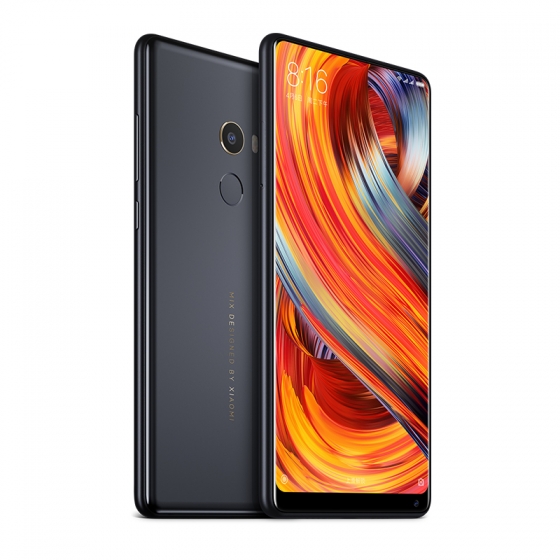 Apart from the 8GB RAM + 128GB storage which the special edition features, it is expected with the same 5.99-inch FHD+ display with a resolution of 2160 x 1080 and is powered by a Snapdragon 835 chip with an Adreno 540 GPU. The Mi MIX 2 packs a single 12MP Sony IM386 sensor at the rear as well as a 5MP selfie camera. There is a 4,400mAH battery under the hood with QC 3.0 and a rear-mounted fingerprint sensor. There is also dual WiFi band support and it supports 43 bands, 22 of which are LTE bands, including band 20. The Mi MIX 2 runs on MIUI 9 based on Android Nougat.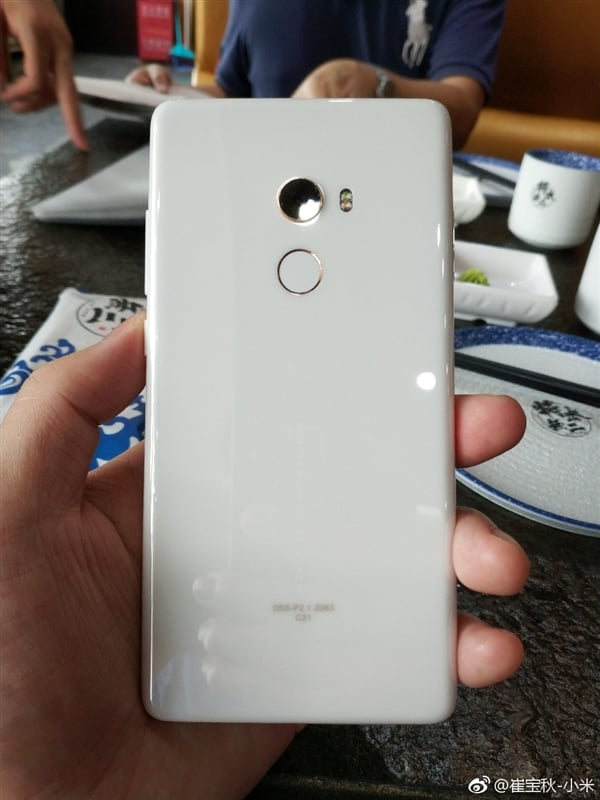 Read More: Xiaomi Mi Mix 2 Sold Out In Just 58 Seconds, Next Sale On Sept. 19
The Mi Mix 2 Special Ceramic version is expected to carry a price tag of 4699 yuan (∼$721). Since it has a ceramic unibody, not too many quantities would be available due to the slow production process so, it won't be easy grabbing one. Don't forget there will also be a black all-ceramic special edition.
(source)