Huawei Mate 10 & Mate 10 Pro Prices, Display Panels & Specs Leaked
Huawei's upcoming Mate 10 flagship was leaked yesterday showing us the design it would adorn on launch day billed for October 16. The design showed the Mate 10 would have a full-screen design but with a considerable amount of bezels and a physical home button. The Mate 10 Pro was said to be the bezel-less model between the duo and would be launched alongside the Mate 10.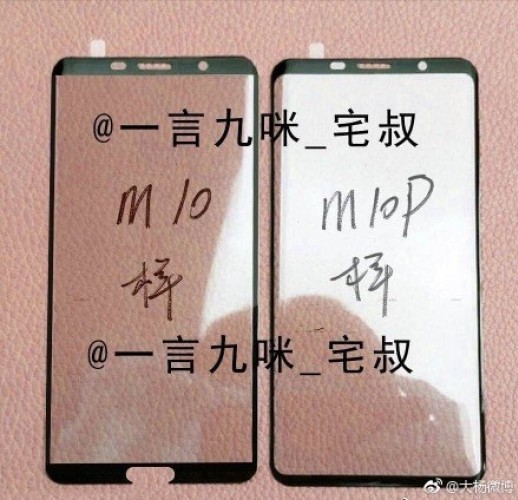 It might interest you to know that a couple of fresh leaks bothering on the Mate 10 and Mate 10 Pro's display panels, specifications and price tag have appeared online. The screen for the two smartphones is pictured above and shows the Mate 10 will have the same height as the Mate 10 Pro but the Mate 10 Pro will be slightly wider. A front home key on the Mate 10 and wider bezels at the top and bottom edges differentiate the two from each other.
The leaker who leaked the display also shared the specifications and prices of the Huawei Mate 10 and Mate 10 Pro. The Mate 10 is expected with a 5.99-inch 2k EntireView display with 18:9 aspect ratio and is listed with a 4200mAh battery with fast charging support. The Mate 10 will come in three variants with 4GB RAM and 6GB RAM. The variant having a 4GB + 64GB storage combo will clutch a price tag of 4299 Yuan ($650). Secondly, the version with 6GB RAM + 128GB storage will go up for 4899 Yuan ($744) while the topmost model will have a 6GB + 256GB combo and would retail for 5599 Yuan ($850).
Read More: New Leak Says Huawei Mate 10 Pro Will Have A f/1.6 Camera, Launch With Android Oreo
On the other hand, the Mate 10 Pro will feature a 6.0-inch 2K display with a similar 18:9 aspect ratio. Just like the Mate 10, it will have an IP67 certification and of course would be powered by a Kirin 970 chip, same as the Mate 10. It would pack a rear-mounted fingerprint sensor, curved edges and almost 90% screen-to-body ratio. The Mate 10 Pro will also get its juice from a 4,200mAH battery. Talking about the prices, the leaked data shows the Mate 10 Pro will come in four variants: 6 GB + 64 GB priced at 5,499 Yuan ($835), 6 GB + 128 GB with a price tag of 6,199 Yuan ($941), 6 GB + 256 GB for 6,899 Yuan ($1,042) and a topmost version having a monstrous 8 GB + 256 GB combo which would retail for 7,499 Yuan ($1,138). So, Huawei will be joining Apple and Samsung on the list of OEMs with smartphones priced above $1,000. With these price tags, do you think they stand a chance of grabbing some market shares from the two market leaders, especially in Europe? Let us know your thoughts in the comment section.
(source)