LunaR is A Solar-Powered Analog Smartwatch Inspired By The Moon
by Habeeb Onawole Oct 9, 2017 12:09 pm0
There are tons of smartwatches in the market at the moment. While some have  a LCD/AMOLED display, others look no different from your average analog watch. LunaR falls under the second category.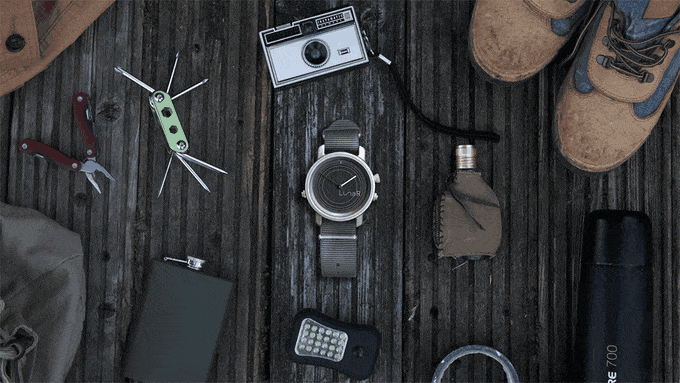 LunaR has some unique features that makes it stand out from other watches. First, inspiration for the name comes from the moon but the watch recharges via solar. The face (dial) is actually a transparent solar panel that recharges the built-in 110mAh battery. Apart from charging via light rays from the sun, LunaR will also recharge via indoor lighting or the bundled charger.
With respect to functions, the LunaR is no slouch either. While it can't show you stats of your physical activities on its display (only via the app), it can display two different time zones – one with the aid of LEDs and the other using the analog hands. It also has sunrise and sunset tracking and is waterproof too (5 ATM).
Activity tracking such as running and steps taken can be viewed on the app as well as sleep tracking details. Using LEDs and vibrations, LunaR will inform you if you have reached your daily goal. The multi-color LED light can also be customized for individual app notifications.
The LunaR app which is available for both iOS and Android can also be used to monitor charging time, set alarms, and modify time zones. There is Bluetooth 4.0 LE for connectivity and its compatible with iOS 10+ and Android 4.3+ devices.
LunaR has a steel design that is simple yet classy. By default, it comes with a nylon strap but you can pick up a leather strap for $17.50 or a colorful knit strap for $13.50. The LunaR watch has a diameter of 41mm and a thickness of 13.3mm. The glass is either Sapphire coated or Sapphire crystal (latter version will ship in 2018).
The watch has already surpassed its $50,000 goal three times over. It is expected to ship to the first 3,000 backers by December.
READ MORE: BlackBerry and Timex May Collaborate to Launch a Smartwatch
Do you like the LunaR smartwatch? If you do, head to Kickstarter and back it up. Your pledge can start from $138 and go up to $9,900 depending on how many units you want to buy. $138 will get you the watch which will retail for $239 when it launches and $9900 will get you 100 units just in case you want to give this out as Christmas gifts to your employees (Shine, this is not a bad idea).