New Honor Device With 4 Cameras Launching December 13, Honor 9 Lite or Honor Note 9?
by Habeeb Onawole Dec 10, 2017 11:19 am0
Huawei's sub-brand, Honor, released its latest flagship, the Honor V10 just a few weeks ago. However, new teaser posters on their official Weibo page has revealed there will be another launch on December 13. Our guess is it's either the Honor Note 9 or Honor 9 Lite.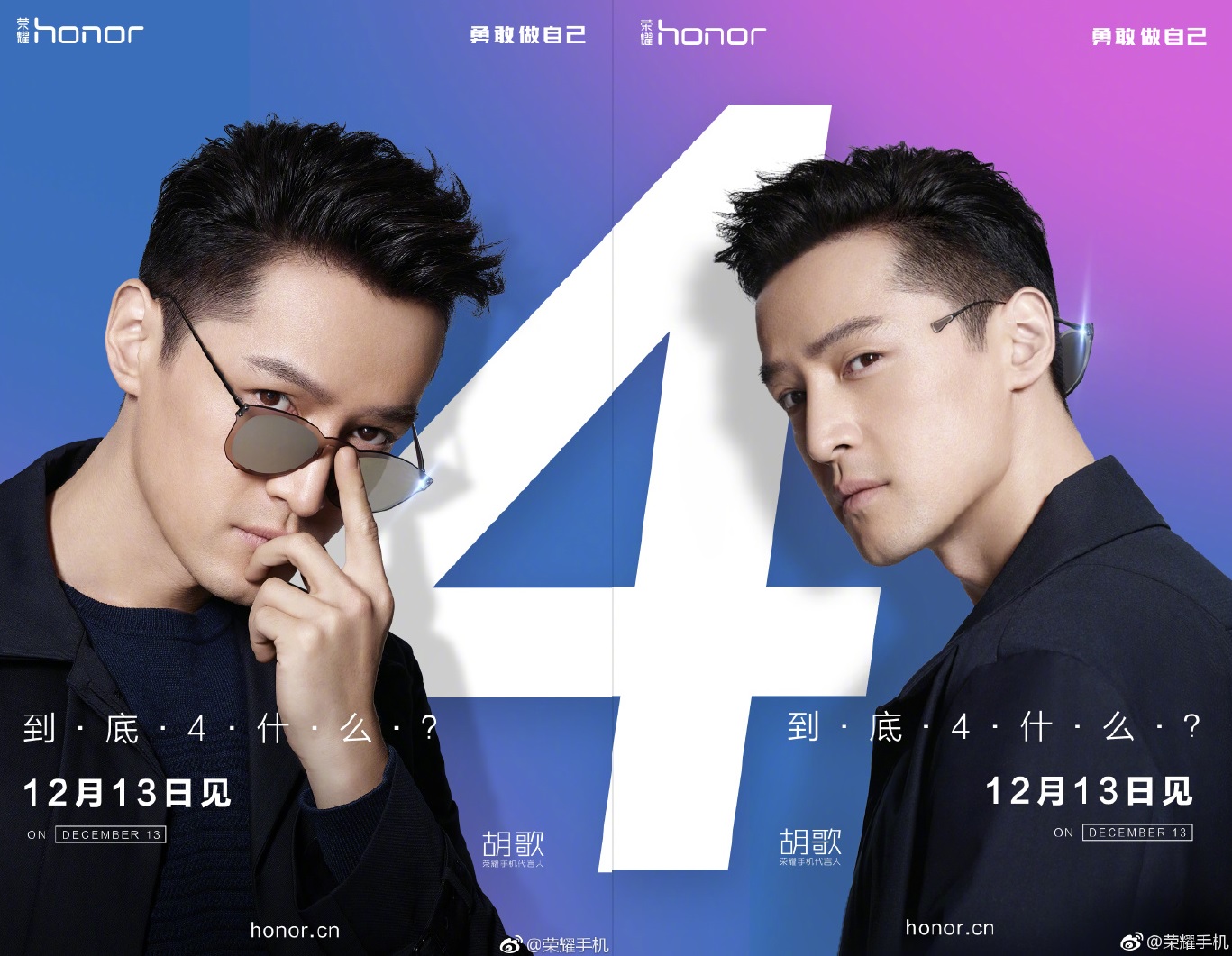 The two posters feature Chinese singer and actor Hu Ge. In one, he is shown wearing a pair of sunglasses on his face and in the other he has the glasses on the back of his head. There is also the figure 4 written in a bold white font on the posters. We believe this means that the phone will have dual front and dual rear cameras.
Honor already has a phone with four cameras. It is the Honor 9i in India which is also the Huawei Maimang 6 in China, the Huawei Nova 2i in Malaysia, and the Huawei Mate 10 Lite in other markets.
There were rumors that Honor would launch the Honor 9 Lite/Youth alongside the Honor V10 but only the latter was announced. Our guess is that the event will be for the Honor 9 Lite or maybe even the Honor Note 9.
To be honest, Huawei and Honor's naming scheme and product releases are starting to get really confusing. Having one phone launch with 4 or 5 different names in different markets doesn't make any sense.
READ MORE: Xiaomi Redmi 5 Plus vs Honor 7X Specs Comparison
Apart from the Maimang 6 and its multiple aliases, another example that comes to mind is the Honor 8 Lite which is also known as Huawei P8 Lite (2017) in France, Huawei P9 Lite (2017), and the Huawei Nova Lite (Singapore).