There are many advanced users who would like to have a flagship phone for multimedia or productivity, but they cannot afford it because their budget is low compared to the prices of actual flagships which are increasing every day. If you are among these people, you will be glad to know that there are nice high-end phones which are very similar to flagships but have a lower price. Samsung Galaxy A8 and Xiaomi Mi Note 3 are among the best high-end phones which are still sold at a decent price, and the following is a Samsung Galaxy A8 vs Xiaomi Mi Note 3 specs comparison between them.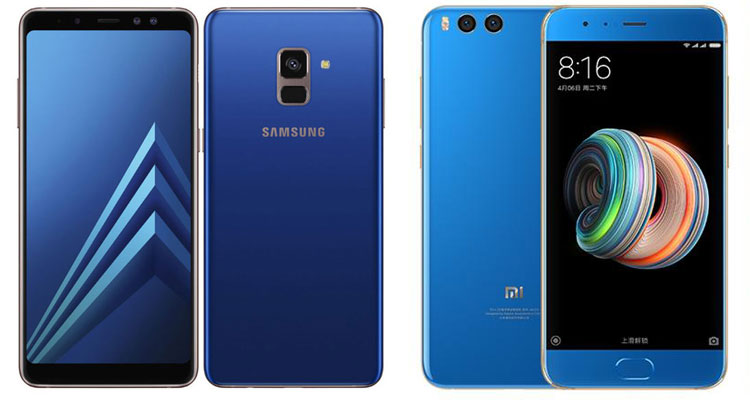 Samsung Galaxy A8 vs Xiaomi Mi Note 3
Samsung Galaxy A8
Xiaomi Mi Note 3
DIMENSIONS AND WEIGHT
149.2 x 70.6 x 8.4 mm
 152.6 x 74 x 7.6 mm, 163 g
DISPLAY
 5.6 inches, 1080 x 2220p (Full HD+), 18.5:9 ratio, Super AMOLED
 5.5 inches, 1080 x 1920p (Full HD), 16:9 ratio, IPS LCD
PROCESSOR
 octa-core Samsung Exynos 7885, 2.2 GHz
 Qualcomm Snapdragon 660, octa-core 2.2 GHz
MEMORY
 4 GB RAM, 32 GB – 4 GB RAM, 64 GB – micro SD slot
 6 GB RAM, 64 GB – 6 GB RAM, 128 GB
SOFTWARE
 Android 7.1.1 Nougat, Samsung Experience
 Android 7.1 Nougat, MIUI 8
CONNECTIVITY
 Wi-Fi 802.11 a/b/g/n/ac, Bluetooth 5.0, GPS
 Wi-Fi 802.11 a/b/g/n, Bluetooth 4.2, GPS
CAMERA
16 MP f/1.7
Dual 16 + 8 MP f/1.9 front camera
 Dual 12 + 12 MP, f/1.8 + f/2.6, OIS, 2x optical zoom
16 MP front camera
BATTERY
 3000 mAh, Fast charging
 3500 mAh, Fast charging (Quick Charge 3.0)
ADDITIONAL FEATURES
 Dual SIM, IP68 certified
 Dual SIM
In terms of design and build quality, Samsung Galaxy A8 looks way better than Xiaomi Mi Note 3. Both are made of glass and metal, but A8 has a borderless display with a high screen-to-body ratio, and it is a fully waterproof phone. Its opponent has a classic 16:9 panel and it does not offer any certification for water-resistance. The display is also better on the Samsung Galaxy A8: it is an AMOLED, Full HD+ panel. Displays are not the strong point of Xiaomi phones, even though Xiaomi Mi Note 3 has a decent panel. An aspect in which Xiaomi Mi Note 3 is probably better is the hardware side: the phone has an efficient and very powerful SoC paired with a huge quantity of RAM: 6 GB. An advantage of Samsung Galaxy A8 is the dedicated micro SD slot: it is possible to use two SIM cards without saying goodbye to micro SD.
We still have no idea about the camera performance of the Samsung Galaxy A8 as the phone was just announced today. But on paper, the cameras of this handset are excellent: there is a rear camera with a very large aperture and dual front cameras which are interesting as well. However, Xiaomi Mi Note is the best Xiaomi camera phone and it is also in the top 10 camera phones tested by DxOMark, so it will be an exciting battle.
Further, the Xiaomi Mi Note 3 has a bigger battery that should last more. Samsung Galaxy A8 has been announced with a price tag of 500 euros (590 dollars) for Europe, which is not so affordable, but the price will drop in a few months. Xiaomi Mi Note 3 can actually be found at about 310 euros (online street prices) or 365 dollars.
With these prices, I would personally pick the Xiaomi Mi Note 3.
Samsung Galaxy A8 vs Xiaomi Mi Note 3
PRO and CONS
Samsung Galaxy A8
PRO
Super display
Great selfie camera
Dedicated micro SD slot
Waterproof
CONS
Xiaomi Mi Note 3
PRO
Very nice performances
Great rear camera
Affordable price
Big battery
CONS