Photo Of Galaxy S9 Internal Components Show Space For Audio Jack
by Habeeb Onawole Dec 27, 2017 2:37 pm0
This year we saw more manufacturers kill the audio jack including newcomers Essential and Razer. However, big players like LG and Samsung have retained this old but useful port. New reports suggest that Samsung will keep the jack in its next flagship, the Galaxy S9.
A photo said to be of the internal components of the Galaxy S9 has surfaced online and shows the spot where the audio jack will be located. While there are rumors that the Galaxy S9 will ditch the audio jack, this is one proof against it. CAD images have also shown that the port will remain.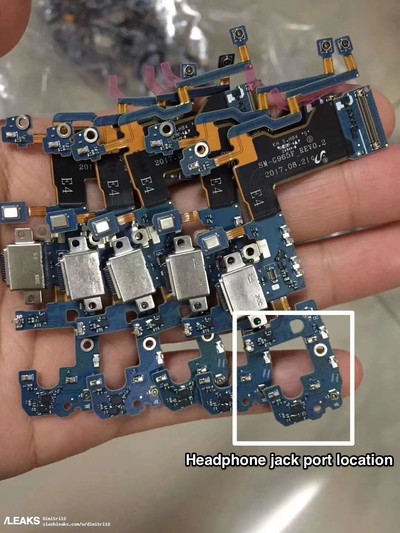 Earlier on, there was a report that the Galaxy S9 (and Galaxy S9+) will come with a free pair of AKG earphones but a Bluetooth version. The Galaxy S8 and S8+ both have AKG earphones in their boxes but are wired. So you can't blame people if they believe the S9 won't have an audio jack since it will come with Bluetooth earbuds.
READ MORE: Samsung W2018: Variable Aperture Explained
The component in the image is the USB-C flex cable component that links the ports at the bottom to the motherboard. If you look closely, you should see the model number of the Galaxy S9 (SM-G965F) and the production date (2017 – 08 – 21).