Specifications of Snapdragon 670, 640, and 460 Leaked
by Habeeb Onawole ago0
Qualcomm already has a bunch of mobile platforms for the mid-range category. Some of them have actually not even appeared in any phone yet, like the Snapdragon 636 but the American company seems to care less and is planning to announce more soon. Full details of three new chipsets – the Snapdragon 670, Snapdragon 640, and Snapdragon 460, billed for 2018 have just surfaced online.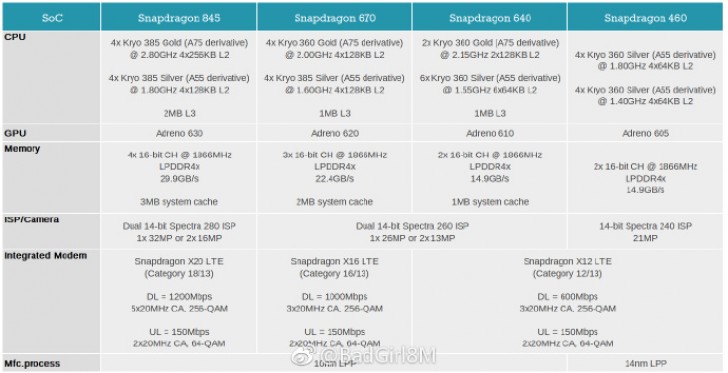 Snapdragon 670
The Snapdragon 670 is not really new as we first heard about it four months ago. The processor will succeed the Snapdragon 660 and will power upper mid-range phones.
The SDM670 will be a 10nm chip made up of 4x Kryo 360 Gold cores based on the Cortex-A75 and clocked at 2.0GHZ and another 4x Kryo 385 Silver cores based on the A55 and clocked at 1.60GHz.
The GPU has also been upgraded from the Adreno 512 to the Adreno 620. For imaging, the Snapdragon 670 will come with the Spectra 260 ISP with support for one 26MP sensor or two 13MP sensors.
LTE speeds will also see an improvement with the new X16 modem that replaces the X12 modem on the Snapdragon 660. Maximum download speed is 1000Mbps and max. upload speed is 150Mbps.
Snapdragon 640
The Snapdragon 640 on the other hand will also feature an octa-core configuration and be built on a 10nm node. It will contain 2x Kryo 360 Gold cores and 6x Kryo 360 Silver cores. They will be clocked at 2.15GHz and 1.55GHz respectively.
The GPU for the SDM640 is the Adreno 610 which replaces the Adreno 510 in the SDM630 and Adreno 509 in the SDM636 mobile platform. It has the same image processor as the Snapdragon 670 but keeps the X12 modem of the Snapdragon 636.
Snapdragon 460
The Snapdragon 460 will succeed the Snapdragon 450 which at the moment is only available in a few devices like the Vivo V7/ V7+ and Xiaomi Redmi 5.
The 14nm SDM460 is also an 8-core processor but with 4x Kryo 360 Silver cores at 1.8GHz and another 4x Kryo 360 Silver cores at 1.4GHz. It comes with an Adreno 605 GPU and a Spectra 240 ISP.
The Snapdragon 460 will also use the same X12 LTE modem as the Snapdragon 640.
What do you think about these new chips?