A report from the previous month had revealed that Samsung would be debuting the new DeX Pad docking station alongside the upcoming Galaxy S9 and Galaxy S9+ smartphones. It appears that the South Korean company will indeed launch the new DeX Pad soon as it has trademarked the "DeX Pad" moniker on Dec. 29.
The Samsung DeX Station that is currently available in the market is compatible with Galaxy S8, Galaxy S8+ and Galaxy Note 8. The DeX Station requires users to place any of the aforementioned Galaxy phone in an upright position. However, the upcoming Samsung DeX Pad will allow users to lay the smartphone flat on a surface so that it can be used as a touchpad and a keyboard. It is speculated to carry support for wireless charging.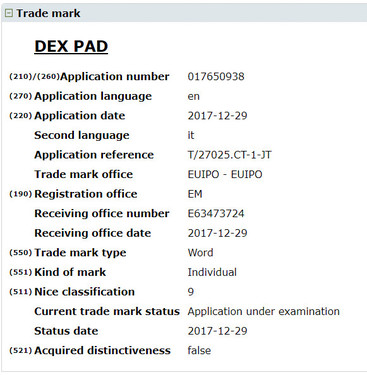 Read More: Samsung Nautilus Chrome OS Powered High-End Detachable Tablet in Works
However, there is no telling whether users will be to connect the Samsung DeX Pad with an external display wirelessly. Rumors have it that it will be compatible with the Galaxy S8, S8+ and Galaxy Note 8 phablets. When Samsung had launched these smartphones, in some regions it had provided DeX Station for free as a pre-order bonus. There is a possibility that the new DeX Pad will be available for free for customers who pre-order the Galaxy S9 and S9+.
Without the offer, it is expected to carry a price tag of $150. Samsung may sell the original DeX Station at a reduced price after the arrival of DeX Pad. The Galaxy S9 and S9+ along with the DeX Pad are slated to get unveiled at the Mobile World Congress (MWC) 2018.