Meizu LIVE Headphones Could Be Really Expensive
Meizu recently teased a new headphone which it dubbed Meizu Live. The new headset is apparently same as the mBlu headset that has featured in several leaks that have appeared online lately. Despite, the handful of leaks the Meizu Live has featured, little is known about the features of the upcoming headset. In a new development, a couple of details of the Meizu Live headset has surfaced courtesy of a Chinese leakster on Twitter.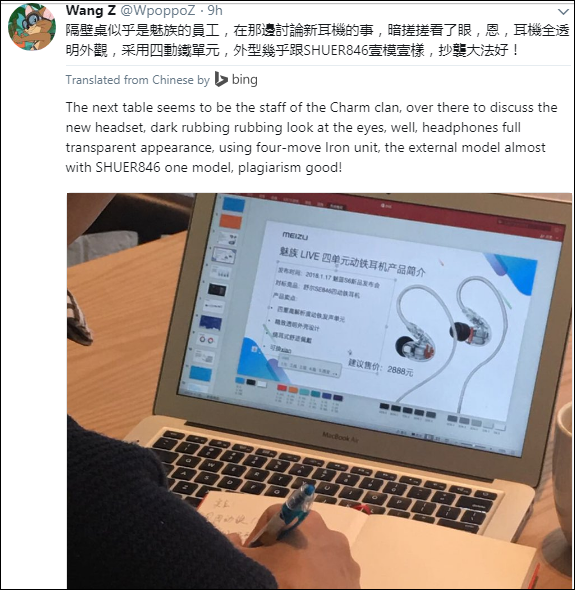 The leak comes in form of a screenshot of a Powerpoint presentation (PPT) containing the supposed real photo, price and release date of the Meizu Live. From the photo, we can see that the Live headset is equipped with a Quad High-Definition MicroDrivers. It looks very much like Shure's pricey and powerful SE846 Sound Isolating headphones but is listed in the PPT with a likely 2,888 Yuan (~$445) price tag.
Read Also: Meizu Teases A New Flagship Headset Dubbed Meizu Live
Compare this to the Shure SE846 Sound Isolating Earphones which is priced at around 6,000 Yuan (~$924), you'll discover it is cheaper but still expensive when compared to any regular earphone. Shure's own earphone features a groundbreaking low-pass filter that delivers extended high-end clarity and unparalleled low-end performance. We expect a similar performance on the Meizu headset. It uses a similar transparent design similar to that of Shure SE846. Shure indicated that the SE846 features a patent-pending design that includes a groundbreaking low-pass filter. This technology enables the deep low-end performance of a true subwoofer without sacrificing clarity or detail of mids or highs. We don't know just yet if the technology on the Meizu Live would be very much the same with Shure's but according to the PPT doc, it would be unveiled on January 17 alongside the M6S full-screen phone. We must note that the leaked details could be fake but we'll bring you more details as they unveil.
(source)