AnTuTu Releases The Top 10 Android Phone Chipsets For 2017 – Qualcomm Dominated
The year 2017 was a very interesting year for the mobile phone industry. The second half of the year heralded the trend for mobile phones with the 18:9 aspect ratio and full-screen display. Despite the smartphone display dominating the headlines, one aspect that was also full f excitement was that of the smartphone processors. AnTuTu has now released a chart which gives an idea of the statistics of the various mobile chipsets that were used on the Android smartphones launched last year.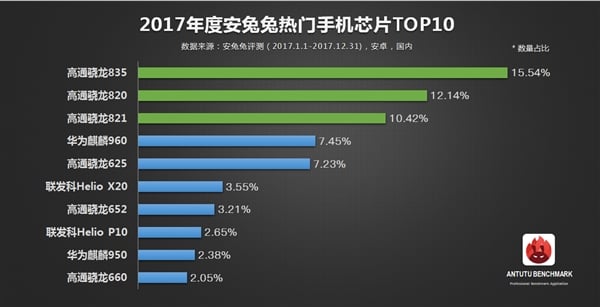 The statistics show the percentage based on usage for the processors and as you would expect, the Snapdragon 835 dominated the charts with a 15.54% market share. The figure may not be too impressive, though, considering that the new flagship chip wasn't deployed as much as the SD 821 performed last year. Surprisingly, the Snapdragon 821 isn't the second most popular chipset this year but the Snapdragon 820 claimed that record and that could be due to its cost. Third on the list is the Snapdragon 821 chipset and indeed, Qualcomm dominated the top 3 spots. Not just that, Qualcomm equally dominated the flagship mobile chipset market as Huawei's Kirin 960 and Kirin 950 chipset are the only flagship chips on the list. The Kirin 960 chip occupies the number four spot 7.45% share of the Android phone market. All of those figures are from Huawei's mobile phones like the Huawei P10, Mate 9 etc. However, don't be surprised at the none-inclusion of the Kirin 970 chip on the list considering it was released in the fourth and final quarter of last year.
Read Also: Huawei P10 & P10 Plus Global Android Oreo-Based EMUI 8 Beta Program Announced
Going further, the Snapdragon 625 chipset occupies the number 5 spot and this is indeed impressive for a processor released in the early part of 2016. Qualcomm also grabbed a slice of the mid-range segment with the Snapdragon 652 and 660 chipsets recording some gains. The specific rankings and percentages are as follows: Snapdragon 835 (15.54%), Snapdragon 820 (12.14%), Snapdragon 821 (10.42%), Kirin 960 (7.45%), Snapdragon 625 (7.23%), MediaTek Helio X20 3.55%), Snapdragon 652 (3.21%), MediaTek Helio P10 (2.65%), Kirin 950 (2.38%) and Snapdragon 660 (2.05%).
(source)